Crop Trust Announces New Board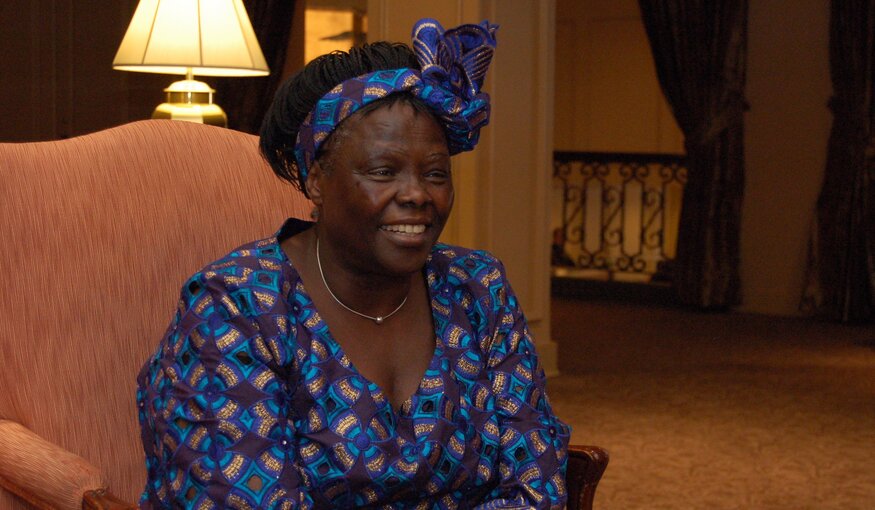 ROME, ITALY (16 February 2007) — The Global Crop Diversity Trust announced today the confirmation of eight new Board members, representing the highest levels of the corporate, academic and political worlds. Kenyan Nobel Peace Prize winner Wangari Maathai is among those who will serve on the Crop Trust's highest body.
Until now, the Crop Trust has reported to an Interim Panel of Eminent Experts, which acted as the Executive Board. The new Executive Board will meet for the first time in April. The Trust's Board is comprised of four members nominated by the Donors' Council, and four members nominated by the Governing Body of the International Treaty on Plant Genetic Resources for Food and Agriculture.
In addition to the eight members listed below, Prof. Cary Fowler, Executive Secretary of the Crop Trust, will serve in an ex officio capacity, and the Director General of FAO and the Chair of the CGIAR will also shortly nominate two further, non-voting, members. The Trust's Executive Board meets for the first time in April, and will be able to choose two further members to supplement the experience and background already represented.
Cary Fowler, Executive Secretary of the Trust, said: "The world has taken notice of the challenges facing agriculture, such as climate change, and this has raised awareness of crop diversity and its importance to food security. Over 100 countries have been represented in the selection process for our Executive Board. The quality of the Board is a demonstration of the importance of the issues, as well as a cause for optimism that crop diversity, through the Trust, will soon be secured forever."
Executive Board Profiles
Dr. Margaret Catley-Carlson
Chair, Global Water Partnership
President, Canadian International Development Agency (CIDA)
Deputy Executive Director, UNICEF (rank of Assistant Secretary General – UN)
Member, UN Secretary General's Task Force on Water
President, Population Council
Deputy Minister, Department of Health and Welfare, Canada
Mr. Lewis Coleman
President, DreamWorks Animation
Founding President, Gordon & Betty Moore Foundation
Vice Chairman, and Chief Financial Officer, Bank of America
Head of International Banking, Wells Fargo Bank
Board Member, Northrup Grumman and Chiron Corporations
Pioneered debt-for-nature swaps
Sir Peter Crane
Director, Royal Botanic Gardens, Kew
Member, The Royal Society
Foreign Associate of US National Academy of Sciences and Royal Swedish Academy of Sciences
Director, Field Museum
Professor, University of Chicago
Amb. Jorio Dauster
Ambassador of Brazil to European Union
Chief Negotiator of Brazil's foreign debt for Ministry of Economy, Planning and Finance
President of the Brazilian Coffee Institute
Coordinator of the Project for Modernization of Brazil's Patent System
Chair of Board, Brasil Ecodiesel
Chair of Board, Arnaud & Co.
Prof. Adel El-Beltagy
Director General, ICARDA (Syria)
Chair, Global Forum on Agricultural Research
Under Secretary of State for Land Reclamation (Egypt)
Director/Board Chair, Agricultural Research Center (Egypt)
Fellow, Third World Academy of Sciences
Prof. Cary Fowler (ex officio)
Executive Director, Global Crop Diversity Trust
Professor and Director of Research, Norwegian University of Life Sciences
Drafted FAO's State of the World's Plant Genetic Resources, and Global Plan of Action
Chair, international committee for planning of Svalbard Global Seed Vault
CGIAR Representative in negotiations for International Treaty on Plant Genetic Resources
Prof. John Lovett
Professor Emeritus, University of New England
Chair, Cooperative Research Centre for National Plant Biosecurity
Managing Director, Grains Research and Development Corporation
President, Australian Agronomy Society
Chair, Oilseeds Research Council
Prof. Wangari Maathai
Nobel Peace Prize laureate, 2004
Member of Parliament (Kenya)
Assistant Minister of Environment and Natural Resources
Founder, Green Belt Movement
Recipient, Right Livelihood Award, Global 500 Roll of Honor, Goldman Prize, Edinburgh Medal, Africa Prize, Sophie Prize, Legion d'Honneur.
Mr. Karl Erik Olsson
Minister of Agriculture (Sweden)
Member of Parliament (Sweden)
Member, European Parliament
Farmer
Download Press Release
Categories: For The Press, Press Releases