Celebrating Sustainable Gastronomy Day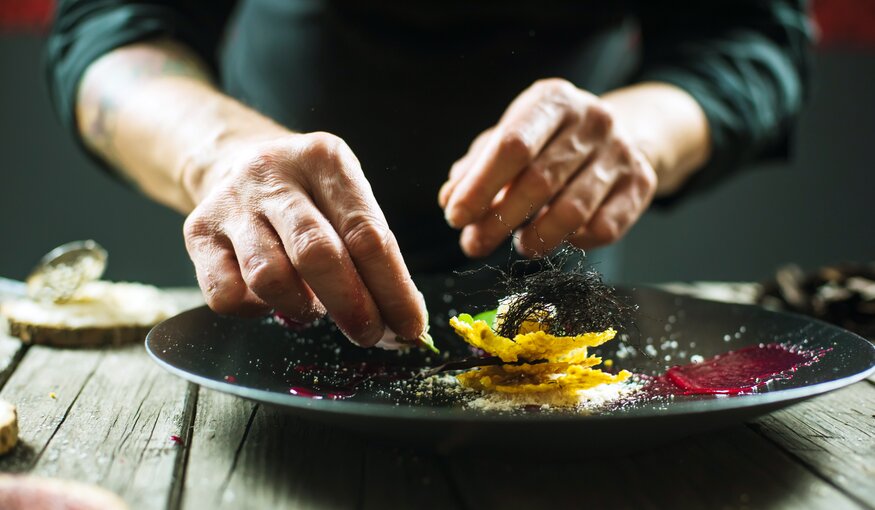 Close-up of male hands cooking molecular dish. Dark background. Molecular cuisine
17 June 2020
Tasty Local Insight from the GLF Bonn Digital Conference 2020
This article is part of a series on sustainable food produced in collaboration with the Global Landscapes Forum
At the Global Landscape Forum's 2020 digital conference, Food in the Time of Crises, more than 5,000 people from 185 countries met to explore ways to rebuild the planet's food systems after the coronavirus pandemic. More than 300 speakers addressed the global audience, including Crop Trust Executive Director Stefan Schmitz who announced the Crop Trust will join 28 other like-minded organizations as a GLF Charter Member.
Among the speakers were Chefs Ada Parellada and Ska Mirriam Moteane, who joined the Crop Trust's Rodrigo Barrios and Beri Bonglim to highlight the future of sustainable gastronomy and local food. Both sessions began with cooking demonstrations where the chefs explained their ingredient decisions. After the demonstrations, Chefs Ada and Ska discussed how daily decisions influence the character of their dishes and how their food choices impact the environment and the food cultures they inherit.
To celebrate Sustainable Gastronomy Day, we look back on these inspiring conversations.
"Recetarios de mi abuela"
"This is the kitchen's music," Chef Ada Parellada said as her arroz con conejo catalán began to sizzle for the summit's digital audience.
For her session with Food Forever Initiative campaign manager Rodrigo Barrios, Chef Ada highlighted a dish that at once embodies the culinary traditions of her native Catalonia and shows the importance of local foodways and dietary diversity. In discussing the importance of local cuisine and sustainable ingredients, Chef Ada plated a colorful, enticing mix of traditional Catalan ingredients - tomato, onions, rabbit, and most importantly, rice.
"The traditional cuisine, the one we have inherited," said Chef Ada, "is one we owe a lot of respect to, because it's a cuisine that makes sense for our home. There is wisdom in it."
Rice plays a particularly significant role in the cuisine of Spain. Many are familiar with paella, the saffron-infused mix of rice, vegetables and sometimes seafood cooked in wide, massive frying pans.
In fact, rice dishes vary widely across the Iberian Peninsula. In Catalonia, arroces take their own unique form, a result of the environment of eastern Spain. Chef Ada pairs her rice with onions and tomatoes, ingredients not typically found in paellas. For some, this may seem like an insignificant difference, but for Chef Ada, it's a reflection of the culinary traditions and climate of her native region.
Chef Ada sees cooking as activism. She avoids buying from producers outside a 100 km radius from her kitchens and she champions a vision for food systems rooted in nutrition, sustainability and tradition. Her approach is all about revering diversity and seeking out forgotten ingredients. For Chef Ada, the perfect example is rice, the core ingredient in her dish, which she loves because it changes colors and flavor according to its native regions, even within Catalonia.
Local Food, Local People
Chef and renowned cookbook author Ska Moteane was born and still cooks in Lesotho where droughts often reduce farming yields and can bring families to the brink of famine. To highlight the resilience found in local food systems, Chef Ska and Crop Trust Technical Specialist Beri Bonglim focused on sorghum, one of the most drought-tolerant grains available to farmers in southern Africa.
Sorghum is one of the world's most important cereal crops. It is a super-crop for nutritional security and drought tolerance, and today is the fifth largest cereal crop globally after wheat, rice, maize and barley. In Lesotho, sorghum is a celebrated, versatile ingredient. Chef Ska uses it for everything from weekday dinners to celebrations and beverages. As whole grain or milled, sorghum is available, wholesome and resilient.
With a base in sorghum, Likhobe is a favorite in traditional Lesotho cuisine - a one-pot dish made from ingredients readily accessible to families and farmers, easy to make and nutritious. But recipes for dishes like Likhobe could easily disappear over time.
"I began documenting traditional Lesotho recipes not only as a way to preserve the integrity of the local culinary culture, but also to encourage sustainable cooking practices. They are slowly slipping away," Chef Ska said.
Preserving local food traditions and ingredients can also help local farmers. Chef Ska promotes the traditional dishes she documents and supports sourcing them directly from local producers. For her, nutritional security in Lesotho is clearly linked to culinary traditions that emphasize local, resilient and accessible ingredients, such as sorghum.
"Anyone – children, older people – can enjoy this wholesome dish we have prepared today," said Chef Ska as she filled a bowl with a steaming batch of Likhobe.
Participants at the 2020 GLF Digital Summit left the sessions with Chefs Ada and Ska inspired, informed and hungry for more. The good news is more is yet to come.
Decisions made by chefs and consumers around the world impact the food and nutrition secure future we need. And for Chefs Ada Parellada and Ska Moteane, much depends on the diverse and all too often overlooked ingredients tucked away in traditional dishes from Catalonia to Lesotho.
Chef Ada Parellada: Chef Ada Parellada, Founder and Chef of Semproniana restaurant was born in an ancient "fonda", a popular restaurant and hotel, run by a family, typical in Catalonia. The Fonda Europa has been run by Ada's family since 1771. So, Ada grew up in between pans and sea bass. She opened her first restaurant when she was 25 years old and has owned seven in total. Ada is a big supporter of local food from local producers. She has transformed her many restaurants over the years to adopt practices to end food waste.
Chef Ska Moteane: Chef Ska Moteane, chef and author, was born in the Thaba-Tseka district of Lesotho. Ska, having inherited her mother's passion for cooking, studied culinary arts in Johannesburg. Her book Cuisine of the Mountain Kingdom was named as the Best African Cookbook in the World at the Gourmand World Cookbook Awards in 2012. When designing her menus, Ska bases everything on what she can source locally.
Rodrigo Barrios, Food Forever Campaign Manager: Rodrigo manages the Food Forever Initiative, a global campaign to raise awareness about the importance of safeguarding the diversity within our foods. As such, he leads, with the support of the Communications team, all outreach efforts to engage stakeholders, including the initiative's Champions and Partner Organizations, to take action around agrobiodiversity conservation and sustainable use.
Beri Bonglim, Crop Trust Technical Specialist: Beri provides assistance in the management of the Crop Wild Relatives Project and coordinates CWR collecting projects in 24 countries. She is also responsible for maintaining, compiling and analyzing data from the Global System Project and is the Crop Trust Focal Person for the Svalbard Global Seed Vault.