Greener Grows the Alfalfa in Chile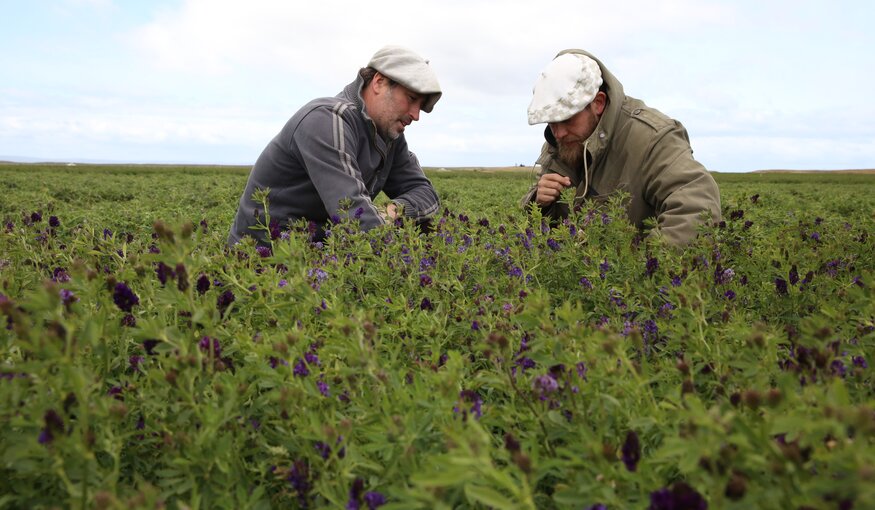 At Estancia Los Niños, Rene Milicevic shows us one of the three 60+ year old alfalfas that Jorge Ivelic from INIA collected in Magallanes [growing behind the 'daisy']. This unique sample is now included in the Crop Wild Relatives pre-breeding trials at INIA Kampenaike. Tolerance to drought and frost are traits that researchers are looking for in Magallanes. In the central part of Chile, researchers are searching for drought and heat tolerance. Photo: LS Salazar/Crop Trust
19 August 2021
"You need to see it to believe it," says Viviana Barahona, agronomist and extensionist at the Chilean Instituto de Investigaciones Agropecuarias (INIA) in Cauquenes, Chile.
"Picture this: you are standing in a yellow field, a dying pasture. It is October and it hasn't rained since early September. The neighboring paddock, though, is a field of healthy, verdant alfalfa."
Alfalfa might conjure up images of mouth-watering salads on a hot summer's day. But, much more importantly, the wild cousins of this resilient legume can also help farmers around the world feed their livestock under the harsh conditions caused by climate change.
Chile's Central Valley is blessed by fertile soils and has attracted investments in cutting-edge irrigation technology to provide plentiful water. But not all local farmers have access to these resources. The approximately 15,000 smallholder farmers in the region face constant water scarcity as well as challenges like soil degradation from overgrazing, tree removal, erosion and unpredictable weather patterns caused by climate change.
"In this region, sheep and cattle graze on rainfed pastures that begin growing in May following the rains, and then die off in October," says Barahona.
Traditionally, livestock rely on a native shrub called espino for shade and food to survive the following long, dry summers. Unfortunately, this system leaves the animals at the mercy of highly variable weather conditions that are expected to worsen with climate change.
Carlos Ovalle, agricultural engineer and coordinator of the national sustainability and environment program at INIA, agrees: "The future climate scenario for central Chile predicts higher temperatures and less winter rainfall, conditions that will make it even harder for smallholder farmers to raise crops and livestock."
Rugged Alfalfa to the Rescue
Research trials conducted at the INIA Cauquenes Experimental Station since 2012 have shown that rainfed alfalfa (Medicago sativa) can supplement the current pasture-based system for feeding livestock by providing a more reliable, higher-yielding source of feed. A perennial plant, alfalfa can survive for many years, even under poor growing conditions.
"With alfalfa, farmers won't have to feed their animals by hand for six weeks once the annual grasses have died off," Barahona says. "For ageing smallholder farmers, who are the majority in this region, that is a relief. It also means the animals are healthier going into the long, hot summer period."
Together with scientists from Australia, China and Kazakhstan, INIA is developing and evaluating new alfalfa varieties that can thrive under even harsher conditions.
The Crop Trust is funding these evaluations through its Crop Wild Relatives (CWR) Project.
"For the Crop Trust, this is an example of working at both ends of the crop breeding pipeline," says Benjamin Kilian, senior scientist at the Crop Trust and the CWR Project coordinator. "At one end, we are seeing new types of alfalfa being evaluated for their drought tolerance and other useful traits. At the other, the farmers who most need urgent help are getting that help based on previous research."
An Aussie in Latin America
A recently developed drought- and grazing-tolerant variety of alfalfa from Australia, called SARDI Grazer, was initially selected to promote to smallholder farmers. Excitingly, the variety was bred using wild alfalfa relatives collected from semi-arid regions of Algeria, Afghanistan and Iran. A true world traveler!
"We chose SARDI Grazer because it is one of the few varieties around the world bred for grazing under rainfed conditions in Mediterranean climates," says Alan Humphries, principal research scientist at the South Australian Research and Development Institute (SARDI) and leader of the CWR Project's alfalfa pre-breeding project.
INIA began distributing SARDI Grazer seeds to farmers in Chile's Central Valley in 2019. Over 2 years, they handed out more than 600 kilograms of free seed to over 100 farmers attending field days at the Cauquenes Experimental Station.
Farmers' Feedback
Despite early challenges, including an unusual growing season with heavy early rain followed by long drought, the project has received an encouraging response from farmers.
"About half of the 2,000 farmers who saw alfalfa at our 2018 Cauquenes field days requested information about where they could purchase seed," Ovalle says.
Freddy Núñez is one such early adopter, a member of the Putú municipality in the coastal region of Maule in central Chile. He and his family depend on the 15 cows they raise on their farm, producing milk and cheese to sell at the local market.
"I am happy with this alfalfa," he told Barahona. "It has provided us with plenty of high-quality hay for the animals. Improving the quality of feed for my livestock will allow me to better provide for my family."
View a slideshow of alfalfa pastoral systems in Chile's Magallanes Region
SARDI Grazer: An In-Depth Profile
SARDI Grazer is a recently developed alfalfa variety that incorporates useful genes from the crop's wild relatives. The variety was bred in Australia for tolerance to persistent sheep grazing in low-rainfall environments to extend the crop's growing season and offer a forage plant that requires less water than annual pastures. With the support of the Australian government's Grains Research and Development Corporation, SARDI Grazer was bred from four cycles of recurrent selection under persistent grazing and simulated drought conditions over a 30-year period. The original germplasm included wild Medicago seed lines from semi-arid environments in Algeria, Afghanistan and Iran. On a larger scale, the project hoped the drought- and grazing-resistant alfalfa could reduce problems like dryland salinity that can occur in rainfed farming systems based on annual crops and pasturing. Since its release in 2011, SARDI Grazer has been sown on more than 300,000 hectares in southern Australia.