GRIN-Global Community Edition: A Collective Step Forward for Genebank Data Managers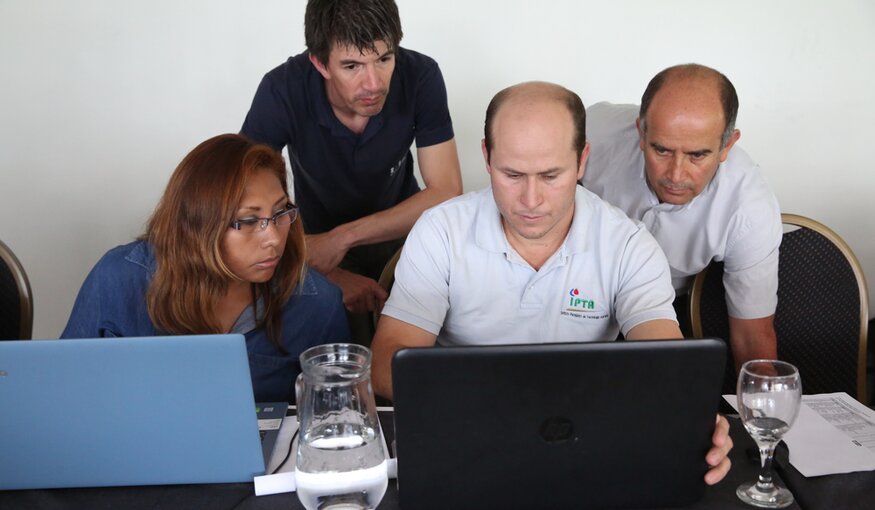 "Genetic resources safeguarded in a genebank are useful only if they are accompanied by data that is easy to access and can be trusted," says Juan Carlos Alarcón, the GRIN-Global Frontrunner, who is pictured here far right with representatives from (L to R) Bolivia, Uruguay and Paraguay. "The management of information is indispensable to safeguard the diversity of our crops. And, more importantly, to make it available to potential users."
All genebanks need sound data management to keep track of the inventories of seeds in their cold rooms and fields, and of all their interlinked processes.
For a long time, the CGIAR genebanks have taken their own unique approaches to data management. The result has been a wide array of software, with some genebanks relying on Excel spreadsheets while others have complex, bespoke systems.
Recently, however, CGIAR genebanks have adopted GRIN-Global, an open-source, freely downloadable data management system developed by the U.S. Department of Agriculture and the Crop Trust.
The development of GRIN-Global Community Edition, which builds on GRIN-Global and addresses some gaps in functionality, presents a major opportunity to further transition all CGIAR genebanks to a common, easy-to-use system that can dramatically improve their efficiency.