New Alfalfa Varieties Take Root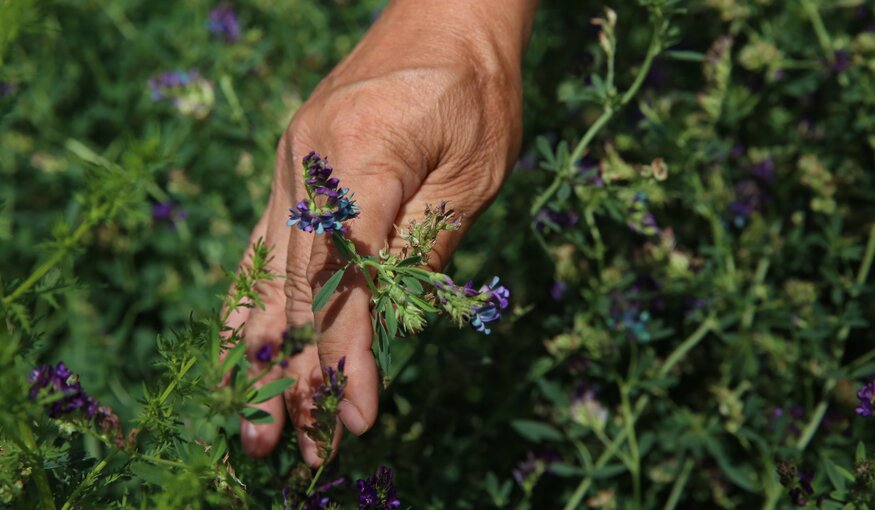 The Crop Wild Relatives Alfalfa Pre-breeding Project at the National Academy of Sciences of the Republic of Kazakhstan (KSRIAPG). (Photo: Luis Salazar/Crop Trust)
4 March 2021
From the dry, freezing winters of Kazakhstan and Inner Mongolia (China), to the parched summers of central Chile, to the blistering heat of Australia, alfalfa—also known as lucerne—is the go-to crop to provide livestock with nutritious food in challenging conditions.
A research project spanning four continents has built on this tolerance to drought by crossing even more hardy wild alfalfa plants with cultivated ones.
The key findings were recently published in a special issue of Crop Science.
"We identified very high levels of diversity in wild species of alfalfa, which are adapted to a range of really unfavorable environments, and used it to develop alfalfas that do not just survive through extremes of drought, but actually grow rather well," says the paper's lead author Alan Humphries, Principal Research Scientist at the Department of Primary Industries and Regions research division South Australian Research and Development Institute (SARDI).
"Modern alfalfa cultivars have this difficult legacy of having been developed from a very narrow range of plants, so we went back to the beginning of the plant-breeding process and collected as much diversity from wild species around the world as practically possible," he says.
The researchers' collection of crop wild relatives—undomesticated distant cousins of alfalfa—included some that look quite unlike the deep-rooted, erect, perennial crop commonly grown by farmers.
The research was conducted as part of the Crop Wild Relatives (CWR) Project, an 11-year effort to collect important species of crop wild relatives globally, ensure their long-term conservation and use them to adapt agriculture to the effects of climate change.
"Drought and extreme heat are becoming more frequent, so it's essential to help the commercial varieties of crops adapt," says project leader Benjamin Kilian of the Crop Trust. "Using crop wild relatives for this is extremely challenging work because tolerance to environmental stresses like heat, drought and salinity are very complex traits, but we need all the diversity we can get."
Given this complexity, it's particularly significant that research conducted in partnership with the CWR Project made advances in a range of other crops too, as reported in the series of papers included in the special issue.
In the case of eggplant, researchers evaluated drought tolerance in both wild and domesticated plants to better identify plants that would be useful in the breeding process. They also found that the plants' mechanisms for drought tolerance varied, providing different options for further breeding.
In durum wheat, researchers succeeded in developing hybrids with improved tolerance to both drought and heat.
"Our findings demonstrate that wheat wild relatives have great potential for providing genes that can help plants better tolerate heat and drought," says Hafid Aberkane of ICARDA in Morocco, lead author of the paper on durum wheat. "The work we are doing with wild relatives pays off in farmers' fields."
While wild plants can have many desirable genetic traits, including resilience in extreme environments, they can also have undesirable traits, like small seeds or fragile ears.
In the case of alfalfa, some breeding lines derived from crop wild relatives aced their tests— one example is the variety Zhongcao No. 3, released in Inner Mongolia in 2019, which can survive extremely harsh winters.
And in Kazakhstan, Chile and China, alfalfa varieties with improved drought tolerance are already helping smallholder farmers.
All newly collected wild relatives and the most important plants derived from crossing them with domesticated alfalfa—a process called pre-breeding—are freely available for use in alfalfa improvement programs, upon request from the Australian Pastures Genebank, of which Humphries is the curator.
Some requests have already been made and Humphries is keen to see what happens next.
"One of the requests was from Ladakh in India, which is close to the Himalayas, so it's likely to require high levels of cold tolerance," he says. "We're really excited to see how the germplasm that performed well in Kazakhstan and Inner Mongolia does in that environment."
The next blog post in this series will cover research published in the recent special issue of Crop Science on characterizing and evaluating multiple traits in crop wild relatives.