Sarada Krishnan, the Crop Trust's new Director of Programs, talks about BOLD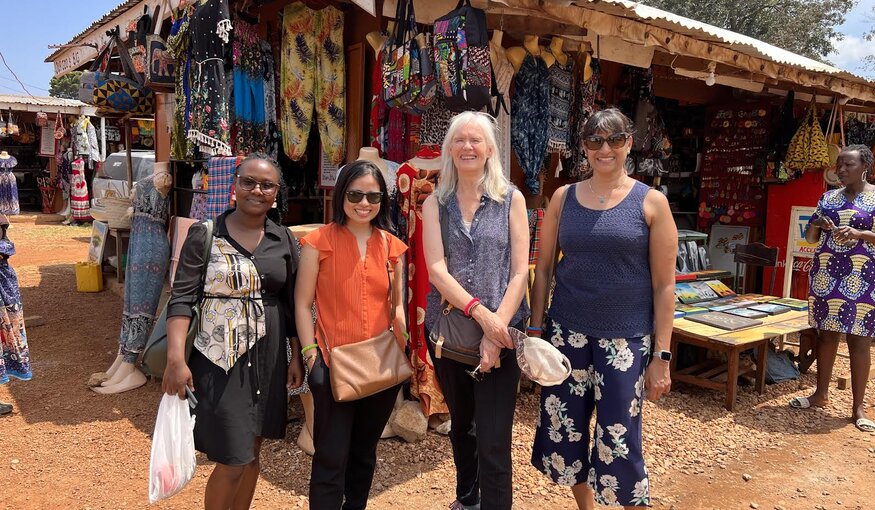 Left to right: Catherine Kiwuka, Nelissa Jamora, Paula Bramel and Sarada Krishnan during a trip to Uganda to visit its national genebank. (Photo: Sarada Krishnan/Crop Trust)
8 September 2022
Sarada Krishnan joined the Crop Trust as Director of Programs at the beginning of July 2022. Prior to joining the Crop Trust, Sarada was Director of Horticulture at the Denver Botanic Gardens in the USA.
In August 2022, she traveled to Uganda with a team of genebank experts who were going to review the Ugandan national genebank as part of the Biodiversity for Opportunities, Livelihoods and Development (BOLD) Project.
The reviews are a key component of BOLD's efforts to help 15 national genebanks around the world to overcome the challenges they face in conserving and sharing crop diversity, in order to improve food and nutrition security.
Here, we speak to Sarada to learn more about BOLD's aims and the impact it hopes to achieve.
Can you tell us a bit about BOLD and its importance to food and nutrition security?
BOLD has a focus on linking the crop diversity conserved in genebanks with the people who use it, such as farmers, plant breeders and other researchers.
In doing so, the goal is to help develop climate-resilient agriculture and thus support food and nutrition security for people around the globe.
The 10-year project, generously funded by the government of Norway, is working towards this in a number of ways, including by supporting the researchers who use conserved diversity to develop nutritious crops that are drought and heat tolerant and can withstand the challenges brought on by the climate crisis.
It's supporting 15 national genebanks to conserve their existing collections, develop new crop diversity through partnerships with breeders and contribute to the development of seed systems – the networks that ensure farmers have access to high-quality seeds for the crops they want and need.
What are some of the novel aspects of this project?
Traditionally, genebanks rightly focus on conserving crop diversity, but putting it to use gets less attention and resources. The BOLD project is designed to change this, by supporting better management of national seed collections but also encouraging the genebanks to work more closely with plant breeders, farmers, seed producers and the like to put new, climate-resilient varieties into the hands of farmers.
Farmers are key to this: we need to understand what they need and make sure that new varieties meet those needs, and end up doing well in their fields.
In doing this, BOLD is continuing the pre-breeding work started under the Crop Wild Relatives Project.
We are working on seven crops that play important roles on small-scale farms in the developing world, ranging from niche crops like alfalfa and grasspea to well-known staples like potato and rice. There are also durum wheat, finger millet and barley. A diverse bunch.
Diversity is what BOLD is all about.
How does the project plan to ensure that new, better seeds reach the farmers that need them?
A lot of times, you can develop a variety but how do you produce seed in sufficient quantity and scale to get to all the farmers that might want to try it out? Unless you have a well-developed seed system – with working linkages from genebanks, to plant breeders to seed growers, and effective policies, laws and regulations – it is not going to happen.
BOLD is looking at both the formal and informal side of the seed system, which is important. In the Global South, various types of farmer-to-farmer exchanges account for maybe 80% of the seed that farmers use. Farmers conserve their own seed and exchange it among themselves, leading to the development of landraces, or farmers' varieties. This is where most of our crop diversity comes from.
But many countries have seed laws and policies that prevent farmers from selling these landraces on the formal market, for example. This is where crop genebanks can play a role as a key component of better seed systems – making sure that the diversity of these landraces is made known to breeders and other stakeholders and is available for different types of use.
So how can we have seed systems that benefit all those involved, from the farmer to the consumer? This is where an important additional component of BOLD's work comes in, led by the Norwegian University of Life Science: designing a better, more inclusive seed system.
This is the first of the BOLD genebank reviews that you have been on. Can you say something about your impressions of the process?
Taking part in this visit has been a wonderful experience. There's nothing like seeing for yourself what is actually happening in the lab and field.
To come and see what is being done firsthand, to talk to the people who are behind these operations, has been very eye-opening. These sort of one-on-one interactions help develop trust and a spirit of partnership between us at the Crop Trust, the reviewers and the genebank staff.
We're all committed to strengthening genebanks and improving food security and I think meeting each other face to face and developing this trust and rapport is perhaps what is most important about the reviews.