Potato Research in Peru (video)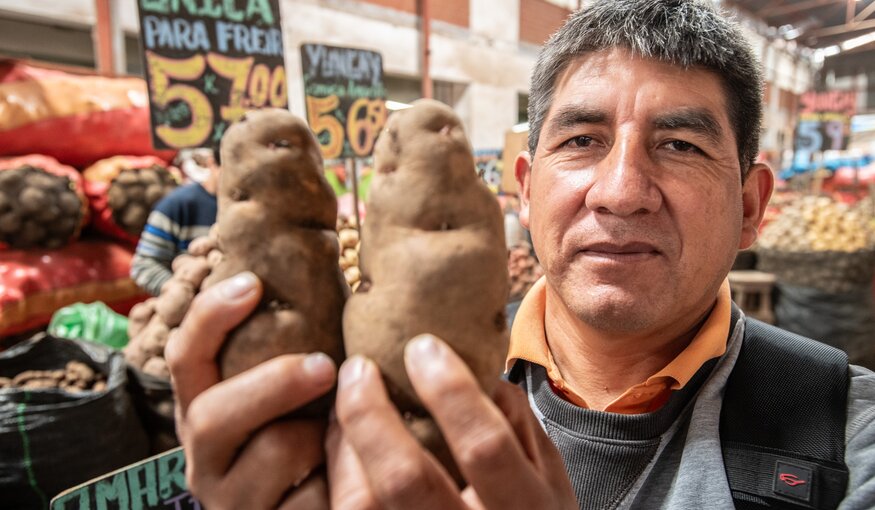 Raúl Ccanto shows potatos in the Huancayo, Peru central market. Photo: Michael Major for Crop Trust
5 October 2023
In Peru, researchers are breeding drought-resistant potato varieties. They use genes from wild potato species so that cultivated potatoes can cope better with drought. German free-to-air television network WDR featured the work of the International Potato Center (CIP) and the Crop Trust in a recently broadcast short documentary.
[Transcript of original video in German]
In Peru, where the potato originally comes from, farmers are struggling as the soil becomes increasingly dry. For many of the self-sufficient farmers, potatoes are the staple food, and they are afraid that they will not have enough to eat.
Breeding researchers in Lima hope to find a solution to this problem – potato genes that are drought-resistant, so that they can breed new varieties. The International Potato Center (CIP) has collections of old cultivated and wild potato varieties.
Vania Azevedo, head of the genebank, shows a wild potato, which does not taste well and is not suitable for cultivation. Nevertheless, it has important traits that are essential for cultivated potatoes. Wild potato relatives grow in the wilderness and are subject to natural selection, so they are adapted to heat, drought, cold or they are resistant to diseases.
On behalf of the Global Crop Diversity Trust, Raúl Ccanto, a biologist and potato researcher, is searching for these wild relatives of potatoes that are not easy to find. Farmers like Dominica and Rolando hope a solution will soon be found.
In the meantime, breeding researchers have already developed the first drought-resistant new varieties, and they must quickly save the original species, as these are also affected by climate change. So far, 2,500 varieties have been backed up in Lima. Their genes can help ensure that everyone has enough to eat in the long term, they hope.