Ensuring the Camel of Crops Keeps Giving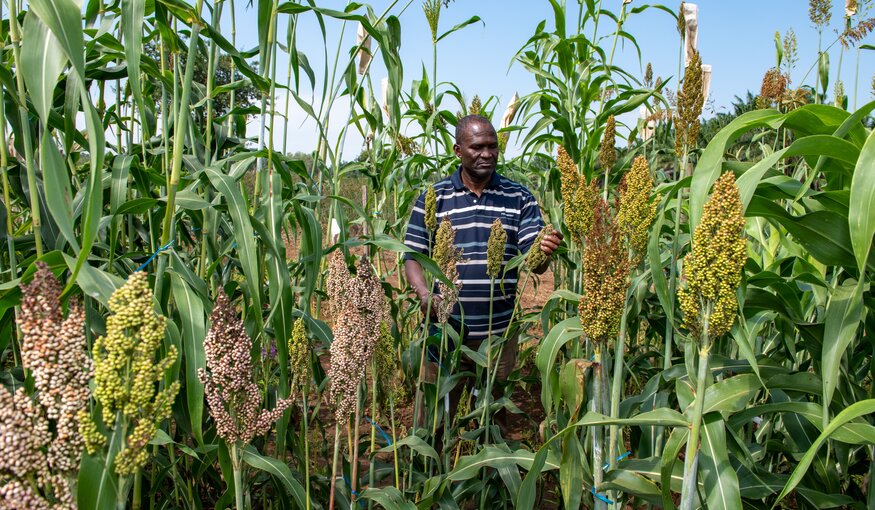 Eric Manyasa, a sorghum breeder, at KALRO-Kibos in Western Kenya. Photo: Michael Major/Crop Trust
18 May 2023
The Crop Trust facilitated the update of a global strategy to conserve the diversity of sorghum and its wild relatives.
---
The "camel of crops" is a true physiological marvel. It's one of our toughest cereals and can survive in super hot marginal environments with minimal water. And yet it keeps on giving … faithfully providing food for humans and livestock or serving as the basis for biofuel.
We're speaking of sorghum.
Our ancestors knew of this "camel" quite well. Sorghum is one of the world's oldest cereals. It was first domesticated in Northeast Africa, in what is now Ethiopia and Sudan, but is now grown on every continent except Antarctica.
This versatile crop – which is important in trade as well as for subsistence – has a great many uses. Its grain is used as both human food and animal feed, it's fermented to make beer and it's ground into flour for use in other food products. It's also grown as a pasture crop and made into silage, and the leaves and stalks produce biofuel.
But despite its usefulness, sorghum cultivation is declining in many places in favor of higher-value crops with larger markets. And its wild relatives are disappearing as a result of changes to land use and climate. That means the diversity of the crop is declining too.
Sorghum isn't on government and industry agendas as staples like maize, wheat and rice are. So it hasn't been given priority for research and development, or indeed conservation.
But it should be.
More sorghum diversity means farmers and crop breeders have more options when developing new varieties that are resilient to climate change and diseases and are adapted to different tastes and other preferences.
That's why the Crop Trust, together with its partners, updated a global strategy to conserve the diversity of sorghum. The previous sorghum conservation strategy was developed in 2007. The initiative was part of a project funded by the German Federal Ministry of Food and Agriculture (BMEL) to develop or update 15 strategies that will guide global efforts for the conservation of key crops.
"The strategy proposes two global initiatives," said Paula Bramel, the lead author of the strategy. "One is to improve current collections of sorghum seeds in genebanks by identifying duplicates and missing diversity – much like cleaning files on a computer to make sure you have everything that you need and not multiple copies of the same file. A second initiative looks at safeguarding sorghum diversity for the future."
How can we improve existing sorghum collections?
The system for conserving sorghum diversity is currently fragmented and complicated, with most holders of collections working independently from one another. The first initiative recommended in the strategy is to fix this.
Since the last sorghum conservation strategy, many genebanks have added data to global databases. This makes it easier to identify excessive duplication, so that current collections can be streamlined. But there are still many gaps.
Much of the information about collections is still not digitized or only available in local databases. There is a need for wider adoption of genebank information systems such as GRIN-Global and Genesys. This will not only facilitate monitoring of genebank metrics and increase the efficiency of genebank management, but also allow for easy online sharing of information according to formal data sharing agreements.
Thus, one key activity of this initiative is to upgrade the information systems of national genebanks, and ensure a complete picture can emerge of what sorghum diversity is being conserved around the world.
"Much of the sorghum diversity stored in collections is poorly characterized, which means information about them is incomplete," said Paula who has extensive experience as a sorghum breeder. "This limits their use, because it is difficult to select diversity with the particular characteristics you need."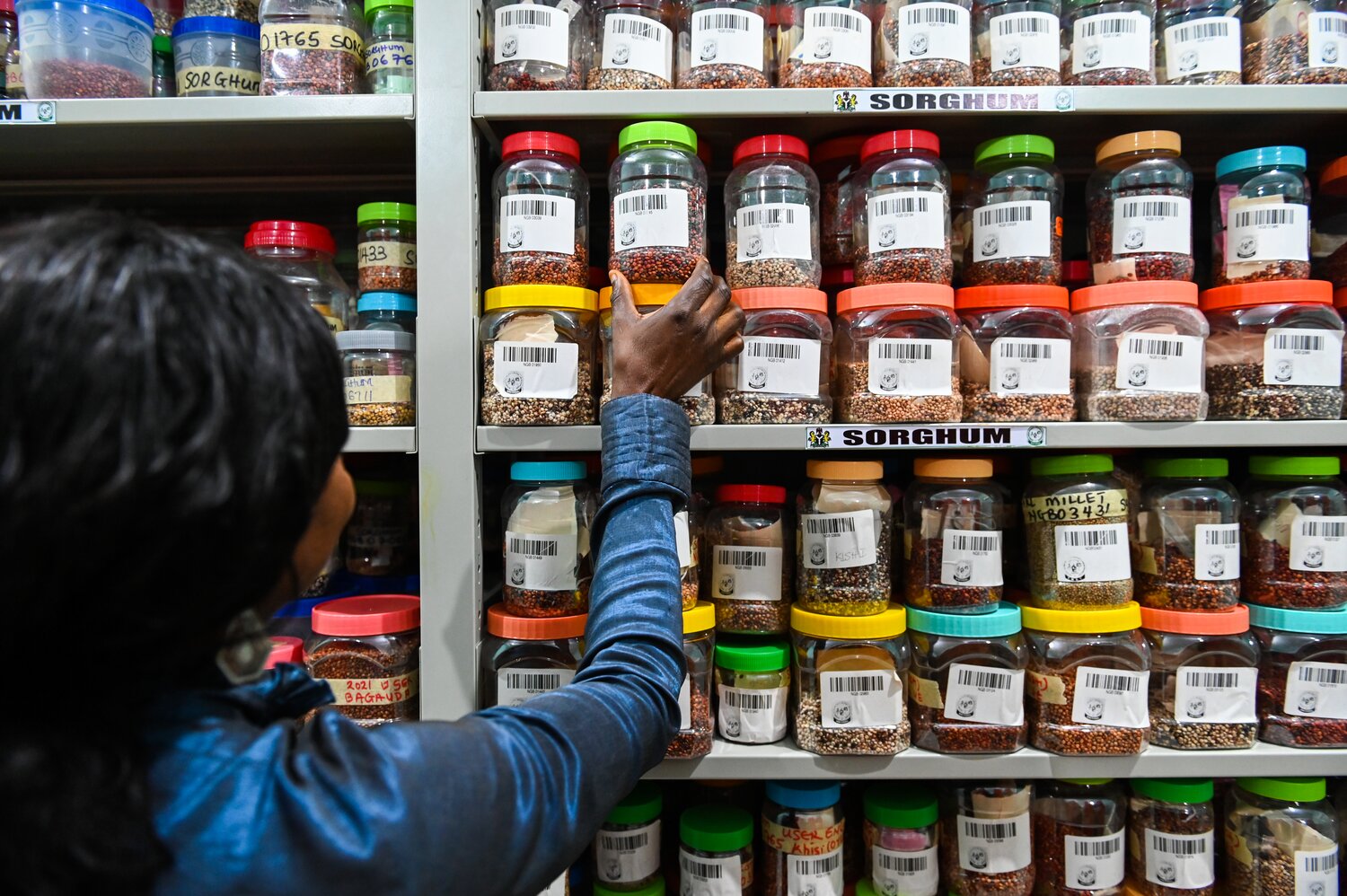 Safeguarding sorghum collections for the future
The second global initiative is to secure these more complete and streamlined collections for future users.
Many of the national genebanks storing sorghum diversity have inadequate facilities, equipment, staffing levels and funding. This has made it difficult to carry out the many tasks required for long-term conservation. It has also meant that there are not enough high-quality seeds to distribute to users.
It's also difficult for genebanks to back up their collections in another genebank. That's an important way to ensure invaluable diversity is not lost if seeds in one genebank die, for whatever reason.
"We recommend that a competitive grants program for sorghum collection holders is developed, so that institutions can apply for funds for upgrades," said Paula. The strategy recommends that a global working group of experts should be established to set priorities for projects, ensure global collaboration, monitor projects and communicate results.
Finally, the strategy recommends establishing a platform to allow all conservers and users of sorghum resources to collaborate more easily, oversee the implementation of the strategy, and revise it as necessary.
The camel of crops feeds millions of humans and livestock today. But we can't take it for granted. The global conservation strategy will help ensure it continues to feed generations to come.
About the Global Crop Conservation Strategy project
The development of this Global Crop Conservation Strategy was funded by the German Federal Ministry of Food and Agriculture (BMEL) as part of a three-year project led by the Crop Trust: "Breathing New Life into the Global Crop Conservation Strategies: Providing an Evidence Base for the Global System of Ex situ Conservation of Crop Diversity."