Hari Upadhyaya: The Fearless Breeder in the Genebank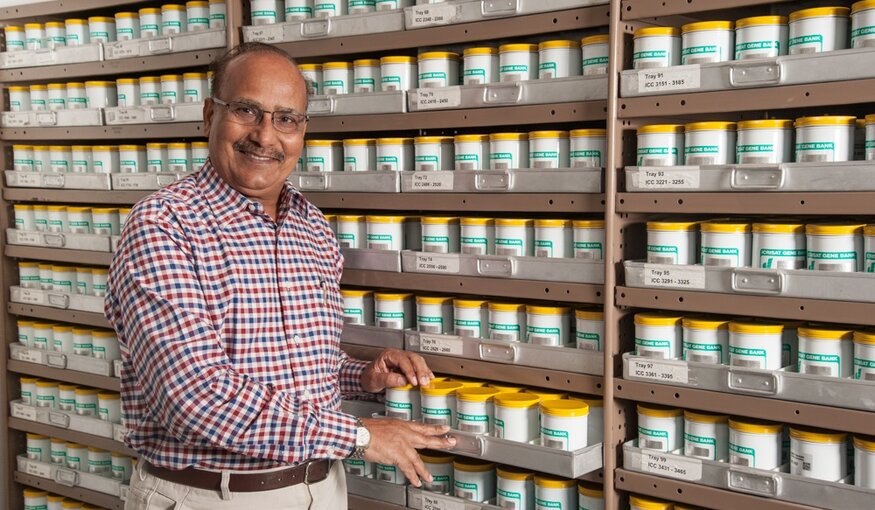 Dr. Hari Upadhyaya at ICRISAT's active genebank in Patancheru, India. (Photo: Michael Major/Crop Trust)
14 April 2020
Hari Upadhyaya is the recipient of a Crop Trust Legacy Award. Read on to learn more about this inspiring scientist.
As a young man growing up in the village of Shiwala in India's Uttar Pradesh, Hari Upadhyaya set some lofty goals for himself. "One day," he told himself, "I will become a plant breeder. And one day, I will publish a paper in Crop Science."
Hari attained, and indeed surpassed, the aspirations of his youth by being fearless in his pursuits and having an uncompromising attitude toward science during his distinguished career. The former head of the genebank of the International Crops Research Institute for the Semi‐Arid Tropics (ICRISAT), Hari Deo Upadhyaya is one of that rare breed of scientists who can proudly hang their hat in both the plant breeding and plant genetic conservation camps.
From the Wheat and Mustard Fields of Uttar Pradesh
Hari was born with a spade in his hands and made agriculture his life and passion. "My father grew wheat, mustard, sugarcane and maize on our farm in Uttar Pradesh," Hari said. "I developed my lifelong interest in crops and plants on the family farm."
Hari left the family farm to complete a Ph.D. in plant breeding at G.B. Pant University of Agriculture and Technology in Pantnagar, India. During that time, he began working with Dr. Bir Bahadur Singh, a cowpea breeder who had a strong influence on Hari's early career.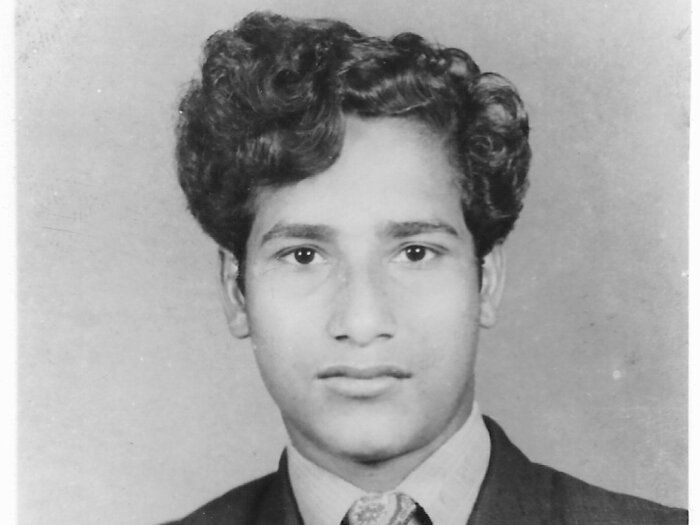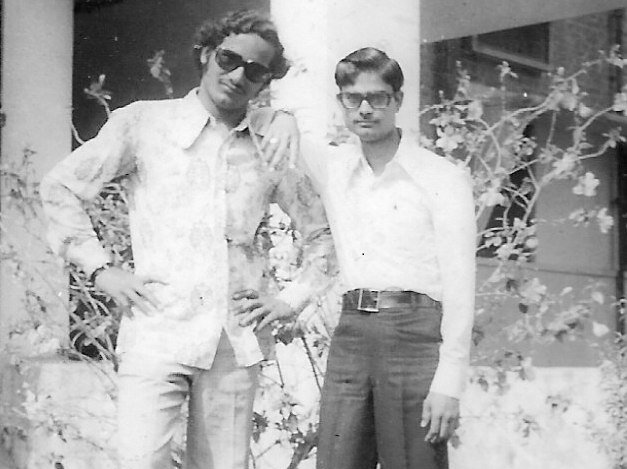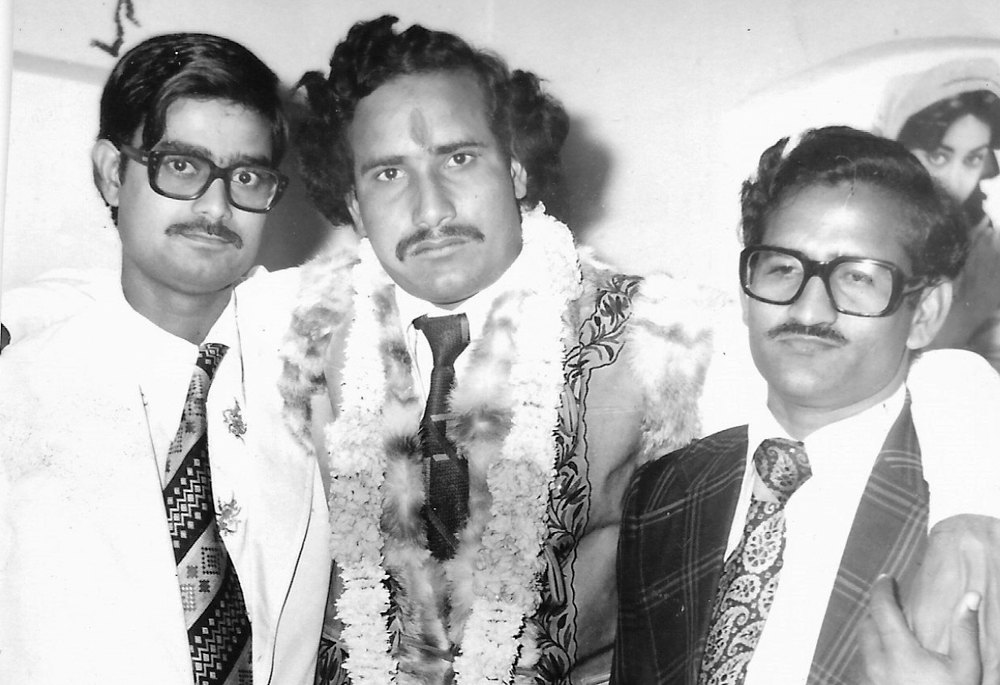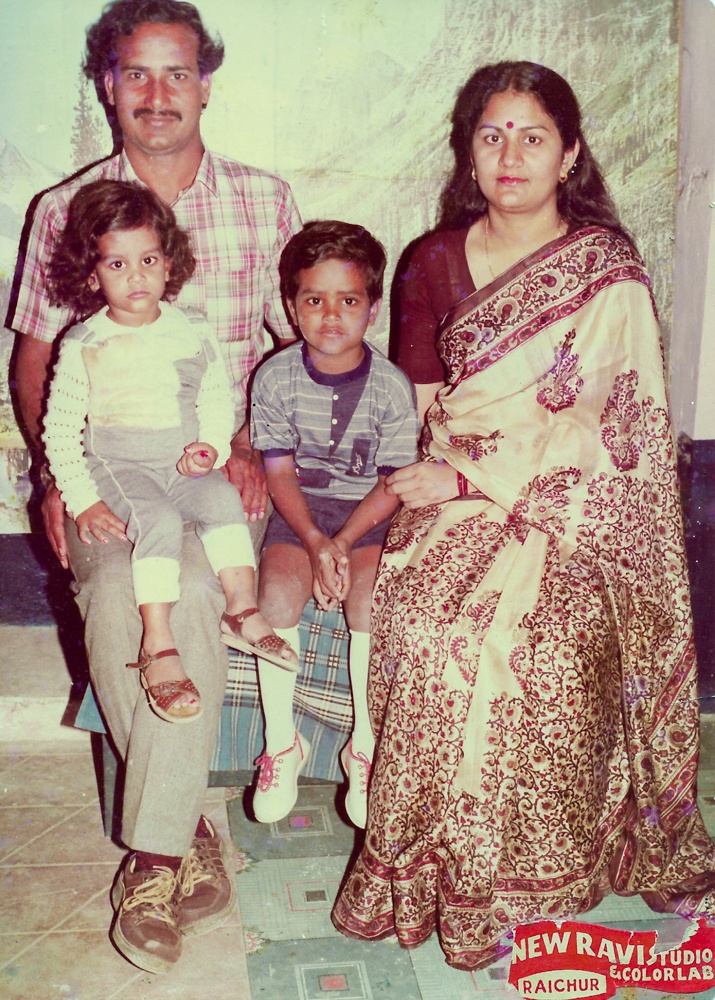 Prolific Writer
Hari joined ICRISAT in 1980 as a post-doctoral fellow in chickpea breeding. "My post-doc work provided me with one of the most important skills for a scientist – writing," said Hari. "While working with J.B. Smithson, who was the ICRISAT principal chickpea breeder at the time, I learned the art of writing a good journal article."
That skill allowed him to achieve one of his personal goals quite early in his career. In 1998, he published his first paper in Crop Science. That was the start of a long association with the journal. Since then, Hari has published 45 papers in Crop Science and is currently on its editorial board as an associate editor. Hari achieved far more than simply publishing in Crop Science. He was awarded the Frank N. Meyer Medal, Crop Science Award, and the International Service in Crop Science Award from the Crop Science Society of America, which publishes the journal. And he was selected as a Fellow for his outstanding contribution and long-time dedication to the conservation of plant genetic resources through enhanced use.
Hari has few peers when it comes to output of scientific papers. He has published 847 works as journal articles, reviews and book chapters. Of those, 334 have been in international peer‐reviewed journals. Averaged over his career, that's an impressive 11.6 articles per year, with three per year as first author.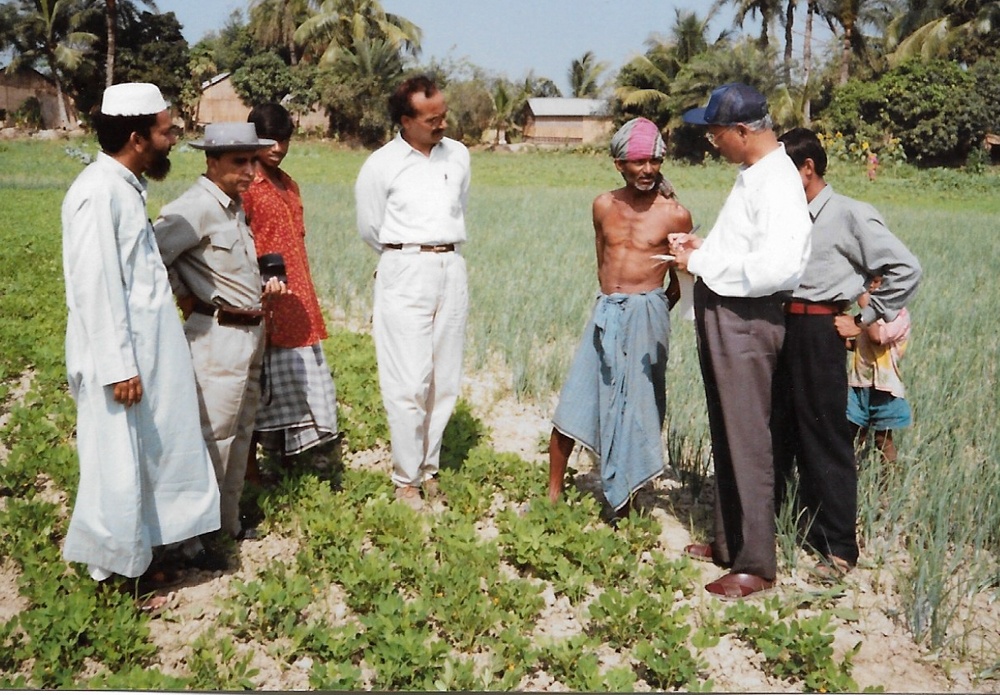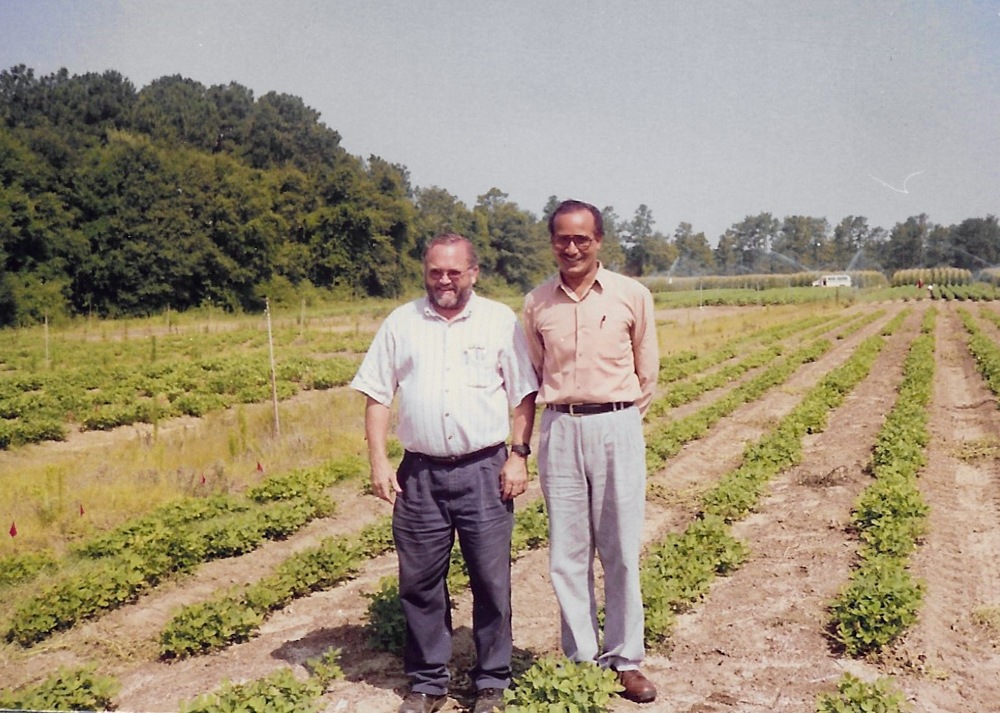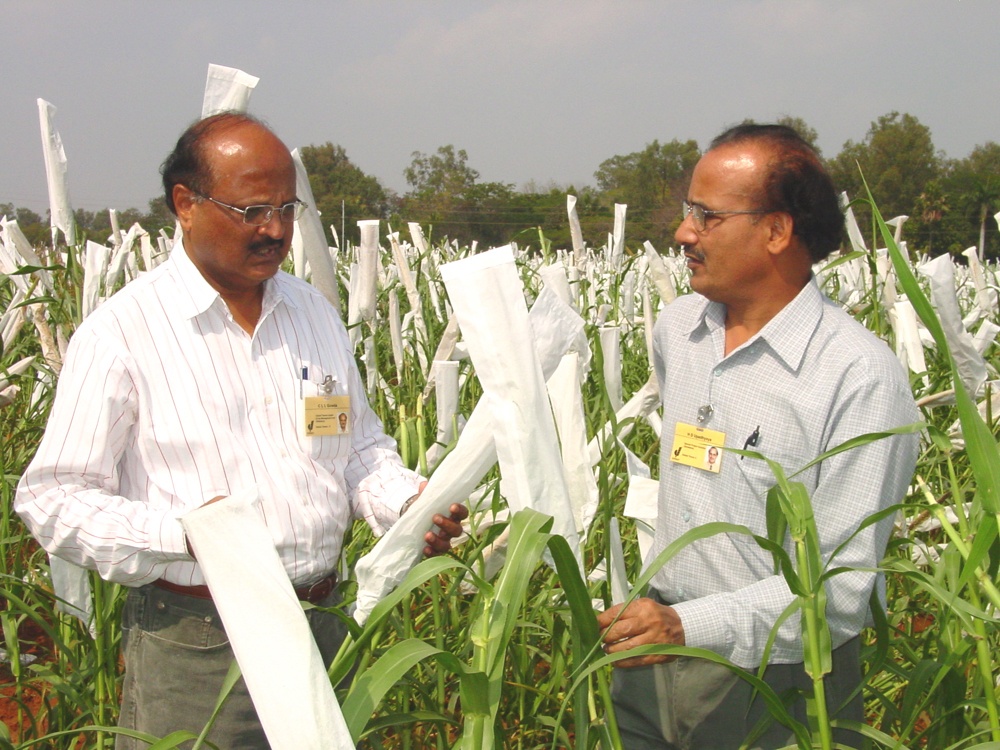 From Breeder...
The young man from the wheat and mustard fields of Uttar Pradesh also aspired to be a plant breeder. Long before Hari became known for his work in genebanks, he established himself in plant breeding.
Hari dabbled in soybean and chickpea breeding before he found his real mission with groundnut. He returned to ICRISAT in 1991 as a senior groundnut breeder. The impact of that move is impressive.
As a groundnut breeder, Hari contributed to the release of 27 cultivars in 18 countries, which harbored characteristics for early maturity, drought tolerance, aflatoxin resistance, and high oil content.
"I would rank Hari as one of the best plant breeders of our time," said C.L. Laxmipathi Gowda, former Deputy Director General, ICRISAT. "I really don't think he has received proper credit for his breeding work."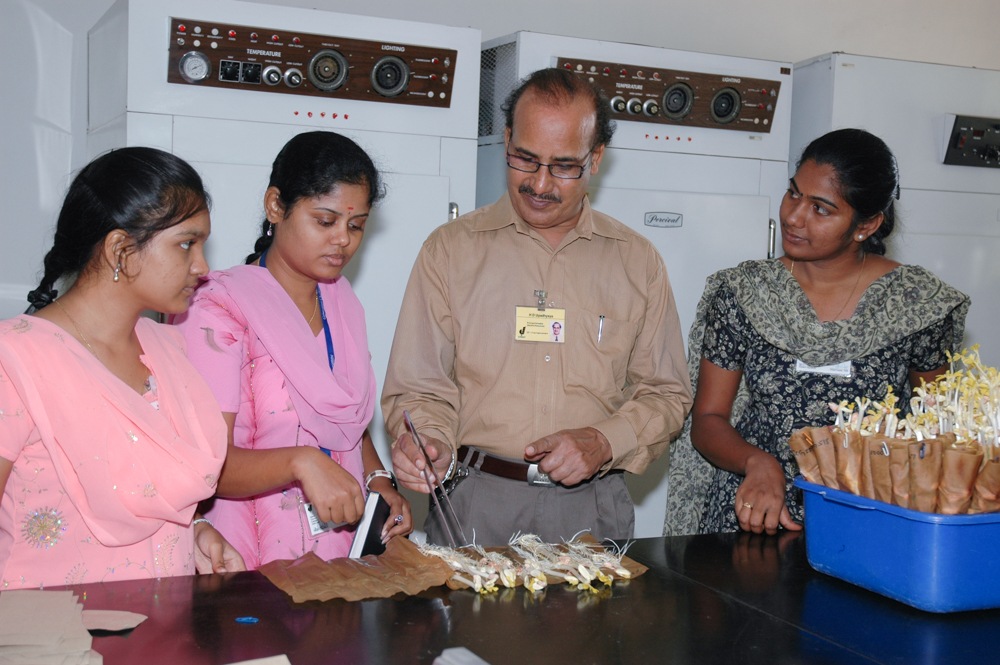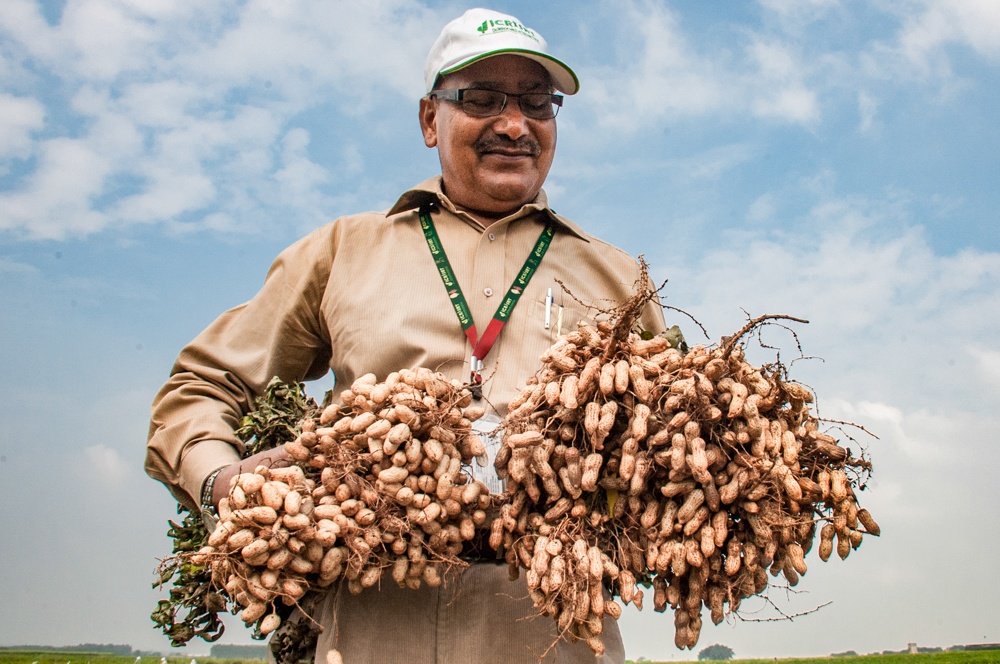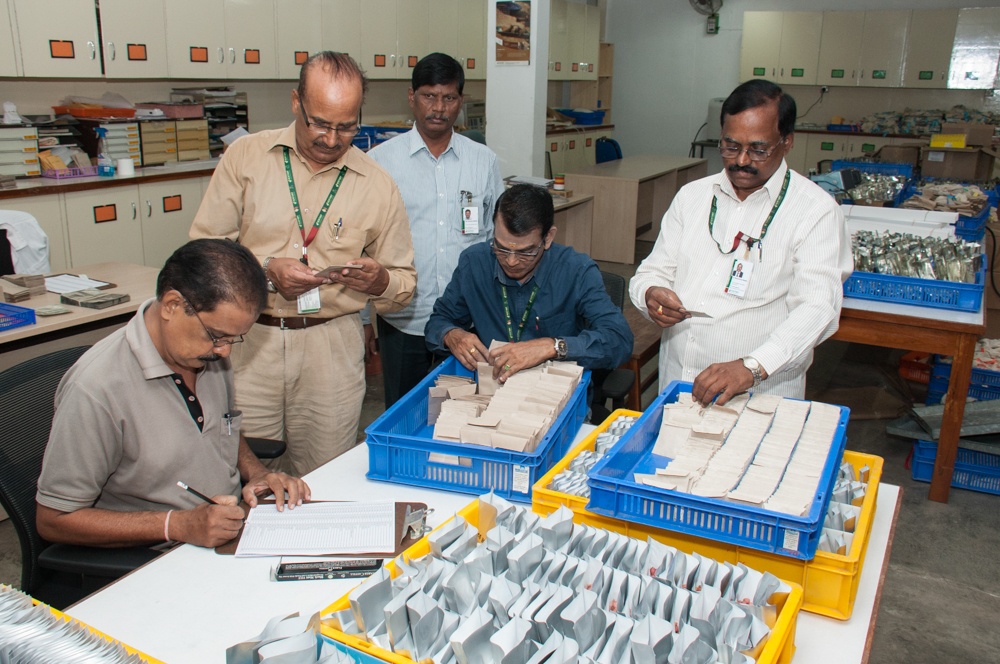 ...to Genebank Manager
Hari's career took a turn in 1997, when ICRISAT did some reorganizing and assigned 50% of his time to heading the Genetic Resources Unit. "When I heard that, I first wanted to resign," Hari said. "At that time, the common wisdom was that a plant breeder couldn't do meaningful research while working in a genebank." Hari wasn't your run-of-the-mill plant breeder, however, and he demonstrated that significant research opportunities can indeed result from working in a genebank.
Hari could fill a library with the research he has conducted while based at the ICRISAT genebank. Name a genetic resources research field and no doubt Hari has made a contribution: climate‐resilient germplasm, nutrient‐dense seeds, bioenergy, landrace use in breeding, on‐farm conservation and use of diversity, wild relatives, genotyping, diversity and population structure, genome-wide association, identifying gaps in collections, enriching collections with new sources, the list goes on.
Hari worked simultaneously as a groundnut breeder at ICRISAT in Malawi and genebank manager at ICRISAT headquarters in Patancheru for a few years. In 2002, he was appointed head of the genebank and continued work he began in 2000 on perhaps the concept that would define his legacy – the mini-core collection.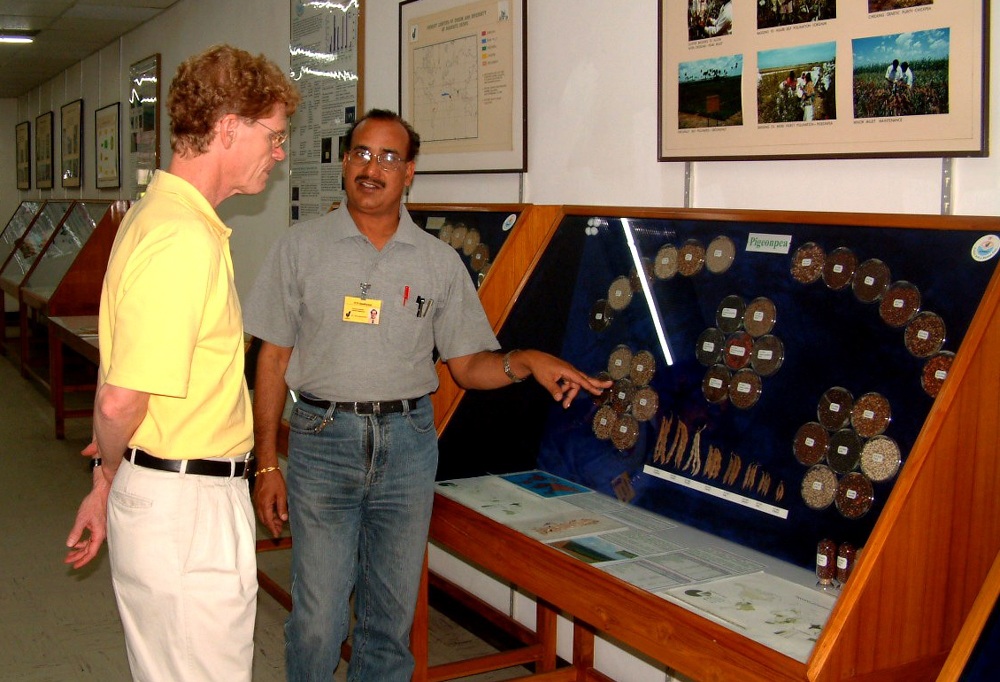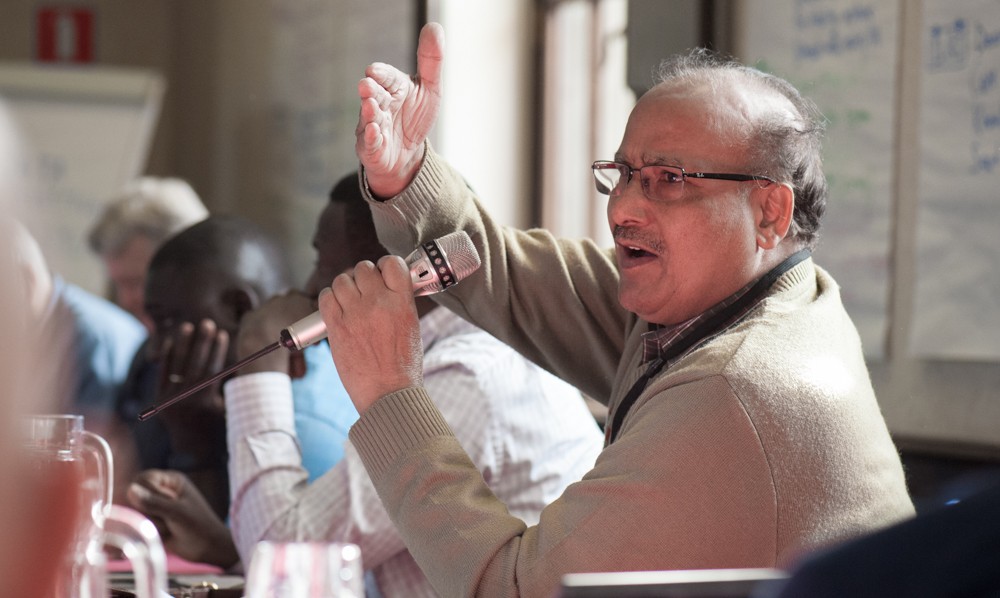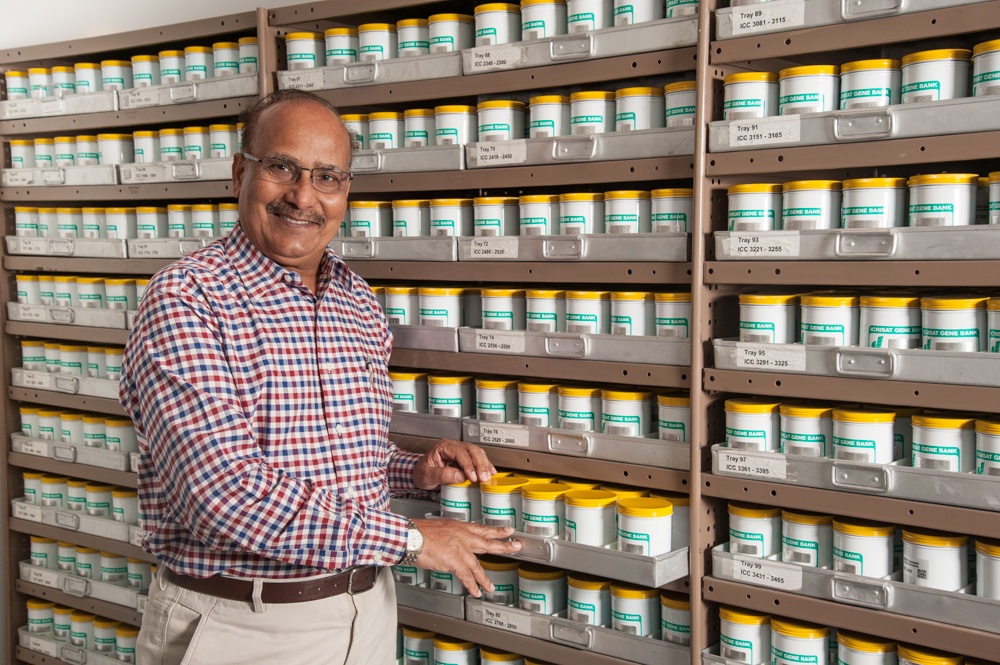 The Legacy
Hari's experience in plant breeding and genetics encouraged him to think beyond routine genebank operations. "I see genebank management and its resources through the eyes of a breeder," Hari said. "We must enhance the value of genetic resources in the breeder's perception and make those resources more accessible."
Hari identified a serious challenge when he took over the helm of the ICRISAT genebank. "As a groundnut breeder, I rarely sourced germplasm from the genebank," Hari said. "The huge number of accessions is just too overwhelming. Breeders like me simply don't know where to start selecting accessions."
Hari initially used a well-known strategy to help breeders. His goal was to identify "core collections" representing 10% of the total number of accessions, but retaining as much as possible of the original diversity. "We based our first cut by using statistical tools to analyze the passport and characterization data," Hari said. Hari's first core collection for chickpea yielded 1,956 accessions … still way too many for breeders.
"My boss at the time, Rodomiro Ortiz, challenged my colleague, Paula Bramel, and me to reduce the selection even further," Hari said. He, therefore, developed the concept of the mini-core, which was 10% of the core, or 1% of the total collection. "We developed the mini-cores by evaluating the core collections over multiple seasons and using the resulting observations to refine the selection."
"The uniqueness of the mini-core is its simplicity, and its tremendous potential to meet the needs of crop breeders and other scientists," Hari said. "It is a 1% sample of a total collection of a crop that represents the diversity of an entire collection. Almost all the needs of breeders for sources of both individual traits and multiple traits are met by systematic evaluation of the mini-core." As proof of the value of the concept, Hari used sources from the mini-core to develop exceptionally high oil (>60%) lines of groundnut.
Hari's pioneering work with the mini-core has contributed to plant genetic resource conservation worldwide. Several genebanks in China, India, USA, Turkey and other countries have developed mini-cores from their collections following the approach. Scientists in about 40 countries are using the mini-cores developed at ICRISAT in their research and germplasm development.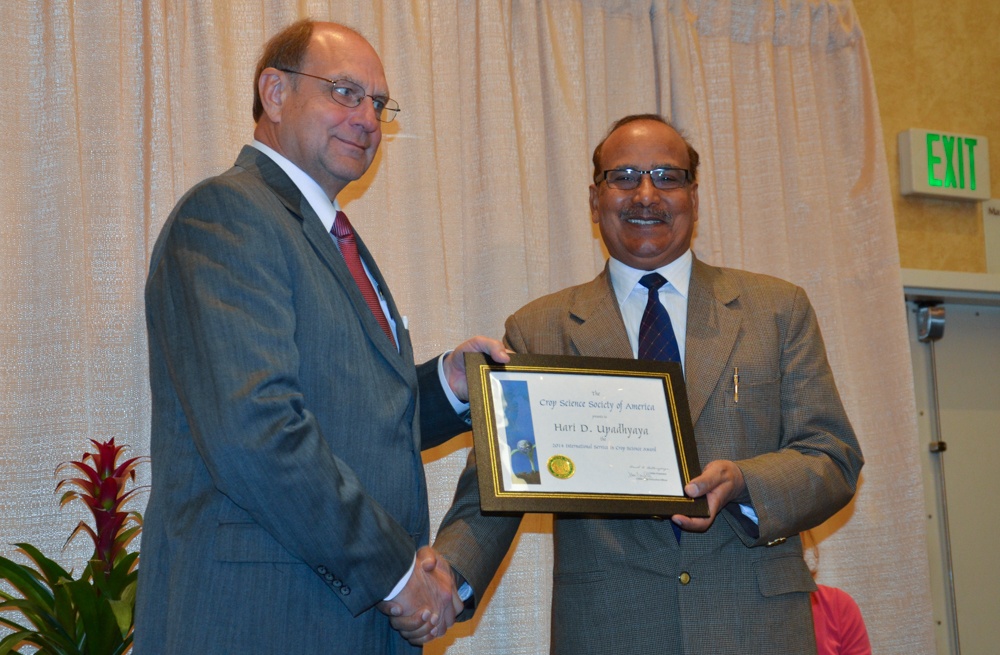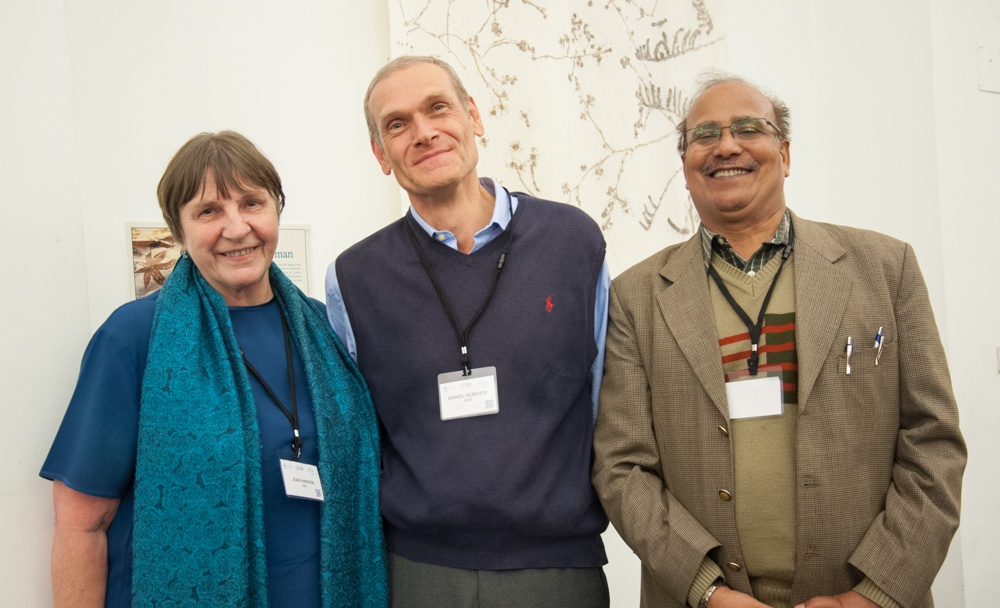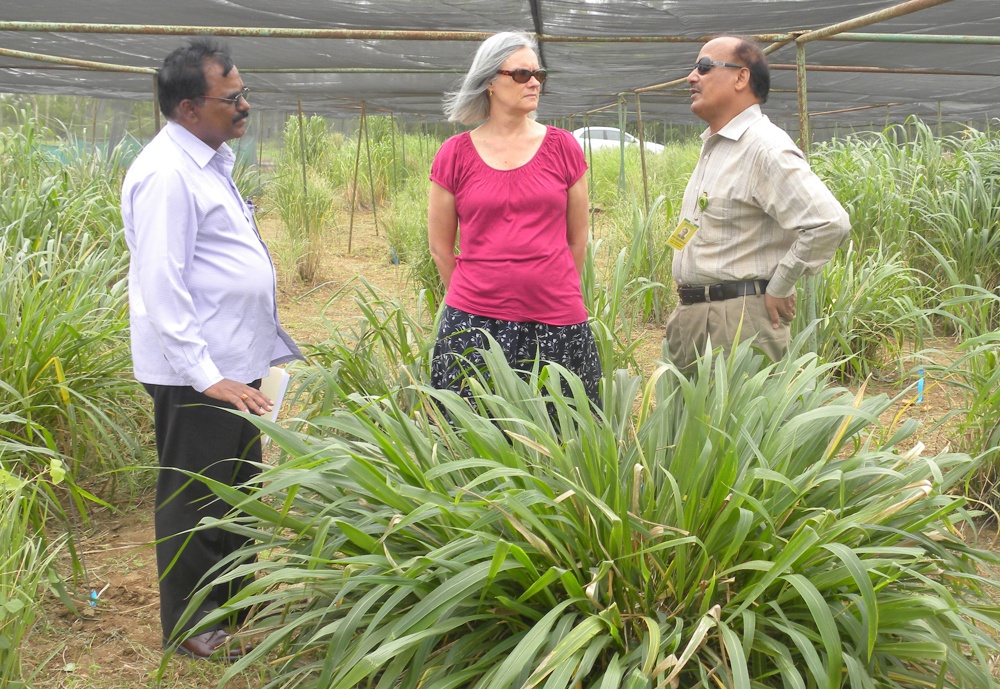 Work Ethic
Genebank staff arriving in the morning always saw Hari bright and shiny-eyed already in the office when they arrived. And when they went home for the evening, he would still be there. "First to arrive at work. Last to leave. I must set an example," Hari said. Hari's work ethic and fearlessness to do what's right in the name of science have defined his career.
Hari could spend six to eight hours a day in a field during the crop season. He would often take observations and make selections himself rather than delegating the task to technicians. "I need to get intimate with my crops," said Hari, who has been known to go out in the fields in the evening to double-check data. "Looking at data on spreadsheets doesn't cut it. I need to be out in the field and see the crop with my own eyes."
Hari's success comes from his ability to be creative and challenge conventional wisdom. Some plant breeders and pathologists working on screening for Fusarium wilt resistance in chickpeas considered only two states in scoring the seedlings or plants: wilted or healthy. After dissecting the wilt symptoms in detail, Hari coined the term "late wilting." He went the extra mile and took wilting scores every 2–4 hours to differentiate late wilting from early wilting.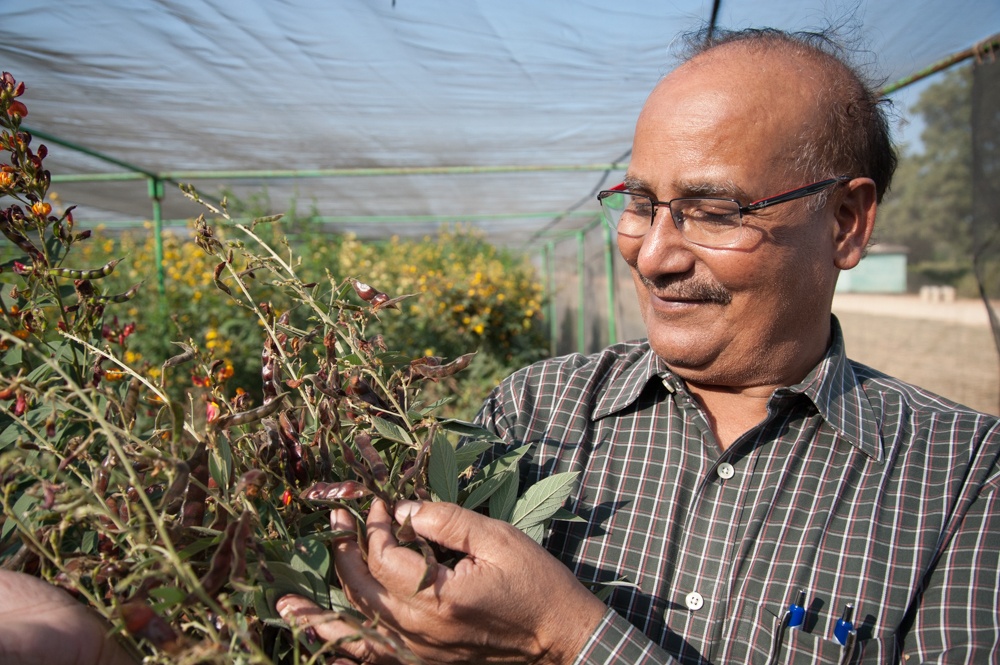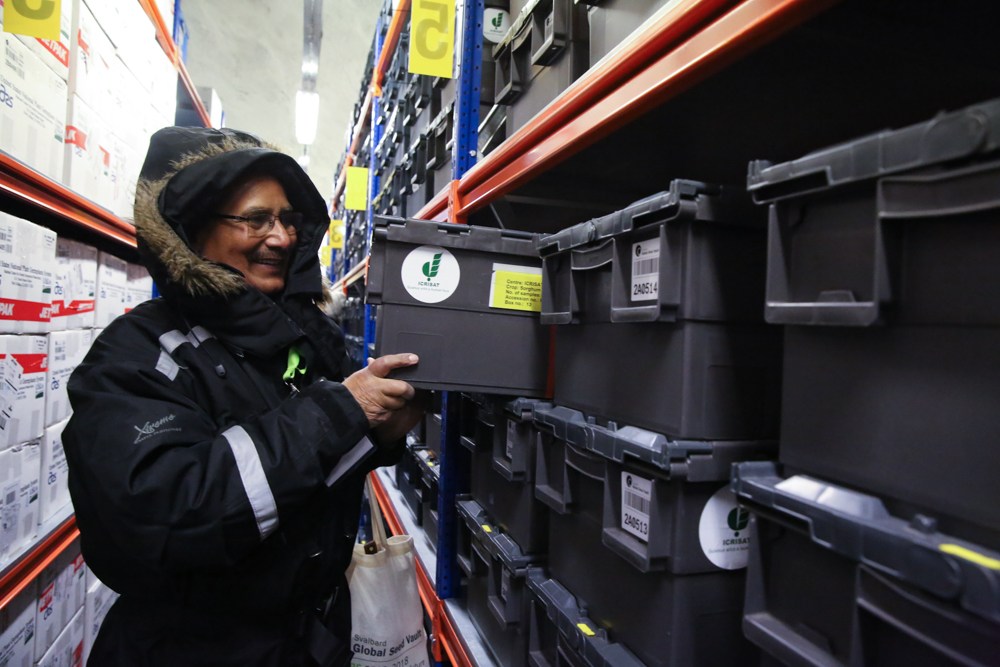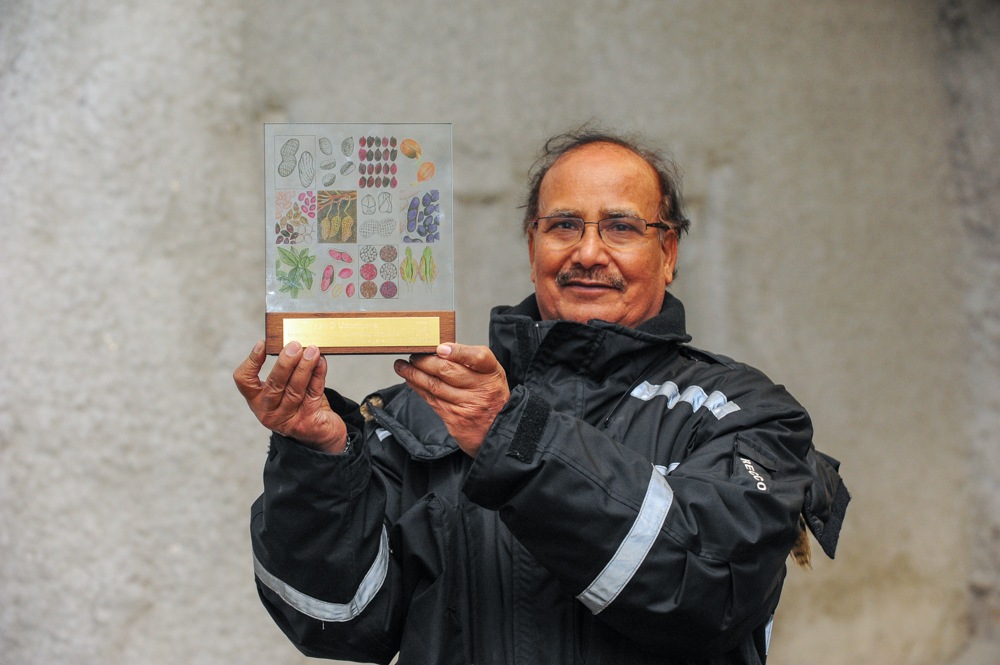 Handing Over the Keys
Hari left some pretty big shoes to fill when he retired in 2018. "Besides the obvious professional qualities, there are two personal qualities which a genebank manager must have: honesty and dedication," Hari said. "My successor, Vania Azevedo, has both these traits."
As Hari walked through those wheat and mustard fields as a youth, pondering his life's aspirations, he never considered a distinguished career in a genebank. But once he entered that genebank, he left his heart there.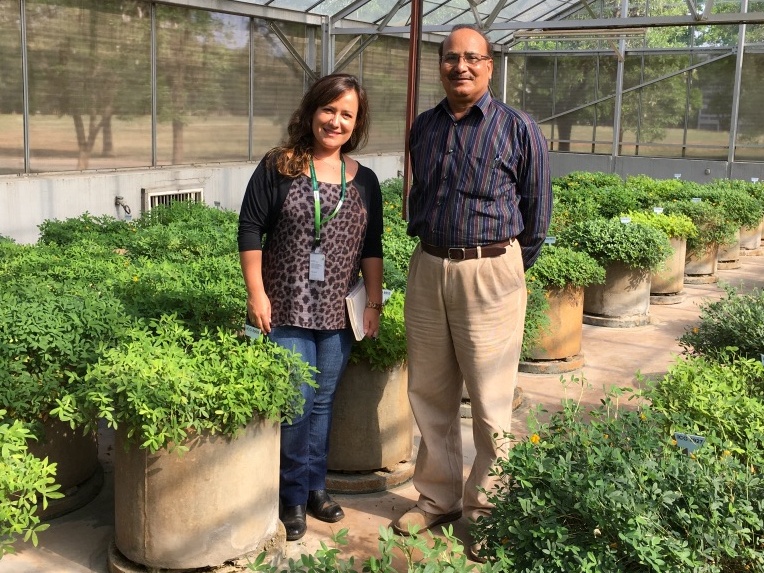 This article was originally published by the CGIAR Genebank Platform, a project which ran from 2017 to the end of 2021. It enabled CGIAR Research Centers to fulfill their legal obligation to conserve and make available 750,000 seed samples of crops and trees on behalf of the global community under the International Treaty on Plant Genetic Resources for Food and Agriculture. The Platform supported day-to-day genebank operations, and activities to improve efficiency, enhance use and ensure compliance with international policy. This work was supported jointly by donor contributions to the CGIAR Fund and the Crop Trust Endowment Fund.