Svalbard Global Seed Vault Seed Collection Continues to Blossom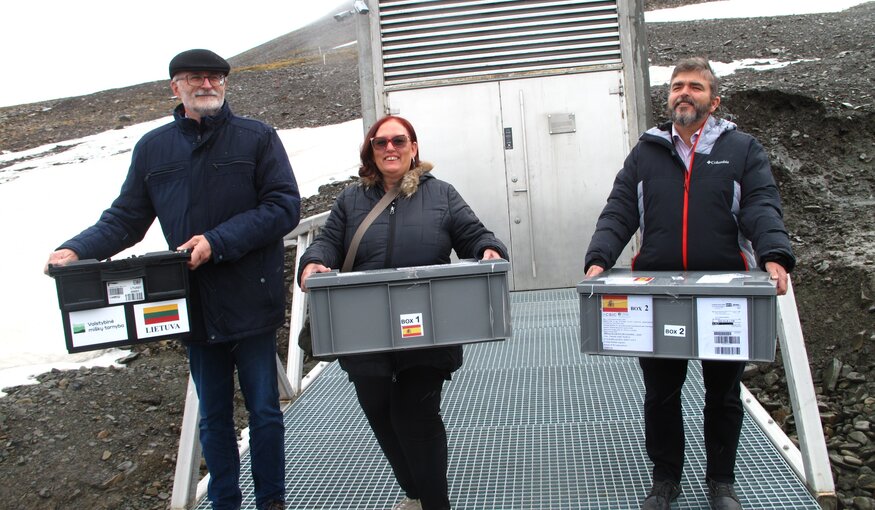 Left to right: Bronislovas Gelvonauskis of Lithuania's State Forest Service, Angeles Gomez Borrego and Luis Guasch Pereira of the Spanish Plant Genetic Resources National Center bring their first seed boxes to the Seed Vault. (Credit: NordGen)
10 June 2022
Two genebanks joined the growing number of depositors to the Svalbard Global Seed Vault this week and varieties of rice bean, lablab and yard-long bean from an Indigenous community were safely backed up for the first time.
In all, 11 genebanks from around the world deposited 97 boxes containing a total of 19,391 seed samples, bringing the number of samples held in the Seed Vault to 1,165,253.
It was a truly global event, with genebanks from Bosnia and Herzegovina, Brazil, Côte d'Ivoire, Lebanon, Lithuania, Peru, Poland, Spain, the island of Taiwan, Uganda and the USA participating.
This was the first time that the national genebanks of Lithuania and Spain deposited seeds in the Seed Vault. Lithuania's Vice Minister of Environment Danas Augutis delivered the first seeds from his country, assisted by officials from the genebank at the State Forest Institute in Kaunas, where the seeds were produced and packed.
The deposit contained 123 seed samples of 28 different species, including cereals, vegetables and forage plants. "We are delighted to be safeguarding this genetic heritage in the Seed Vault," said the minister. "Our farmers and breeders have developed crops and forages for a wide range of conditions, including hot summer days and cold nights, and this is reflected in the seeds we are depositing today. This will, I hope, be the first of many such deposits."
The first Spanish deposit was assisted by two officials from the Agencia Estatal Consejo Superior de Investigaciones Científicas and contained 979 seed samples of 102 species, mostly cereals and vegetables.
"The crop diversity in these boxes is an invaluable source of diversity in the efforts to adapt crops to rapidly changing climatic conditions," said Luis Guasch, Director of the Spanish Plant Genetic Resources National Center. "These seeds are part of our collective human heritage, which must be tackled by us all, and this is our first contribution."
The Spanish deposit includes 111 samples of maize, 60 samples of tomato, and "crops that have nearly disappeared from our farmers' fields, like grasspea and black chickpeas,'' added Guasch.
WorldVeg deposit includes samples from Indigenous communities
The largest single deposit – 11,113 samples of 60 species – came from the World Vegetable Center (WorldVeg), an international agricultural research institute that conserves about 65,000 seed samples representing 330 vegetables from over 150 countries.
This latest shipment follows the 11,700 samples WorldVeg sent to Svalbard in 2021 and includes seeds of local varieties of rice bean, lablab and yard-long bean from two Indigenous communities.
"Working with these Indigenous communities has been an interesting experience, and we hope to further collaborate with them and others in Taiwan and elsewhere," said Maarten van Zonneveld, Genebank Manager at WorldVeg.
"The 2022 shipment includes a large number of seed samples of vegetable and grain soybean for which WorldVeg maintains a global collection," added Mr. Andrew Chan, Information Specialist of the WorldVeg Genebank. "In terms of volume and weight, this is our largest shipment to Svalbard so far. We now have 63 percent of our collection backed up in Svalbard and are on track to have our whole collection safety duplicated there by 2025.".
Restoring deposits withdrawn
Another big depositor is the International Center for Agricultural Research in the Dry Areas (ICARDA). Since withdrawing more than 116,000 seed samples to reestablish its genebanks following the Syrian civil war, ICARDA has been working hard to replace its deposits in the Seed Vault. On this occasion, it deposited 3,446 seed samples, adding to the 6,336 samples deposited in February this year and bringing the total ICARDA collection in the Seed Vault up to 106,865 – nearly 92 percent of its deposits prior to its first withdrawal in 2015.
"This has been a massive effort from our genebank staff in Lebanon and Morocco," said Mariana Yazbek, Head of the ICARDA genebank in Lebanon. "Backing up the collection in Svalbard, together with our new genebank in Rabat, Morocco, will ensure the continuing security of the genetic resources we hold in trust for farmers and other stakeholders."
The ICARDA genebank and WorldVeg are two of the four international genebanks adding to their duplicate collection in Svalbard on this occasion. The other international depositors are AfricaRice (Côte d'Ivoire) and the International Potato Center (Peru).
First deposit in 11 years from Uganda
"We were particularly glad to receive a new deposit from Uganda," said Åsmund Asdal, Coordinator of the Svalbard Global Seed Vault. "This is their first deposit since 2011 and the first since the reorganization and consolidation of seed conservation in Uganda in the Uganda National Genebank. We are grateful for the support the Crop Trust has given to the Ugandan genebank in preparing this latest shipment." The Ugandan deposit consisted of 169 samples of rice.
Regular saver
Another highlight of the June deposit was the latest batch of seeds from the genebank of the US-based non-governmental organization Seed Savers Exchange. This is its 15th deposit, making it the only genebank in the world that has sent seeds to Svalbard every year since it opened in 2008.
The Svalbard family continues to grow
"It is always a joy to see new genebanks joining the Svalbard family," said Stefan Schmitz, Executive Director of the Crop Trust. "The whole of humanity relies on the genetic diversity of crops maintained in farmers' fields and in the world's genebanks, and the Seed Vault is the last line of defense against the loss of that diversity."
"We are delighted to welcome new members to the Svalbard family," said Norwegian Minister of Agriculture and Food Sandra Borch, who awarded a certificate of deposit to both new depositing institutions. "The Svalbard Global Seed Vault is a resource for the whole of humanity. Its aim is no less than to safeguard as much of our agricultural diversity as possible."
Lise Lykke Steffensen, NordGen Executive Director, added: "With this latest deposit, the number of genebanks who have deposited collections for safekeeping in the Seed Vault rises to 91. And we look forward to seeing many more depositors back up their irreplaceable crop diversity in the Seed Vault, including recipients of support under the regeneration grant scheme that was announced in October 2021."
Svalbard June 2022 Deposit
| | | | |
| --- | --- | --- | --- |
| Institute | Country | Seed samples (accessions) | Boxes |
| Genetic Resources Institute, University of Banja Luka | Bosnia & Herzegovina | 270 | 1 |
| World Vegetable Center (WorldVeg) | Island of Taiwan | 11,113 | 59 |
| Seed Savers Exchange | USA | 99 | 1 |
| Plant Breeding and Acclimatization Institute (IHAR) | Poland | 1,025 | 3 |
| International Potato Center (CIP) | Peru | 81 | 1 |
| Spanish Plant Genetic Resource Center | Spain | 979 | 10 |
| ICARDA, Lebanon | Lebanon | 3,446 | 14 |
| Uganda National Genebank | Uganda | 169 | 1 |
| AfricaRice | Côte d'Ivoire | 1,142 | 2 |
| Station Federale de Recherches en Production Vegetale de Changins | Switzerland | 944 | 4 |
| State Forest Service | Lithuania | 123 | 1 |
| Total | | 19,391 | 97 |