Crop Diversity is the Foundation of Food Sovereignty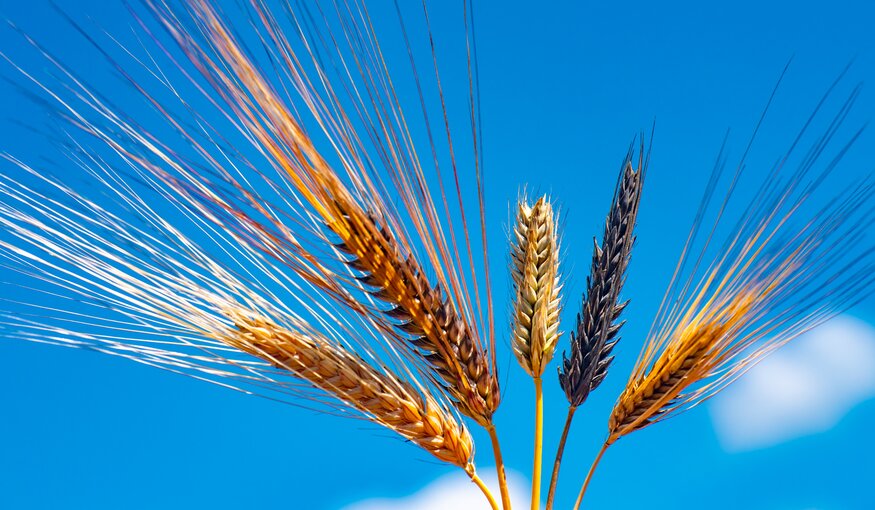 Barley diversity at IPK Gatersleben. Photo: Michael Major for Crop Trust
18 May 2022
On this International Day of Biological Diversity, Ska Mirriam Moteane, a renowned chef from Lesotho, shares her opinion on the importance of crop diversity in overcoming her country's challenges, and the joy it brings to our lives.
Since the start of the COVID-19 pandemic, we've been experiencing major disruptions to the food system in Lesotho. As a result, attention has turned toward food security and food sovereignty in our mountain kingdom.
This beautiful landlocked country of mine is heavily reliant on imports from South Africa for our basics and essentials. The lockdowns and border restrictions clearly showed that agriculture must be placed at the center of all our thinking if we are to achieve a sustainable future.
We Basotho need to develop policies on the production, distribution and consumption of food, for the benefit of all, that allow us to gain control over our food supply.
And in rethinking our food systems, it is important to remember that the conservation and sustainable use of plant and animal resources is critical. These are international goals too, and Lesotho must adapt to, and work in tandem with, related global initiatives and efforts. We deeply appreciate the ongoing support that various international organizations are providing to our country, to assist in running projects that address these issues.
Let's look at what is needed for successful farming systems. Genebanks can without a doubt contribute to sustainable agriculture systems in Lesotho. After plenteous harvests, farmers, smallholder and large scale alike, can deposit samples of their heirloom seeds in the bank. These seeds can be preserved and distributed or shared as and when needed.
We all have to play our part in ensuring that we don't go hungry in the future. Workshops around the country and digital platforms can be used to reach as many farmers and producers as possible, to teach them how they, and the whole country, can benefit from genebanks. By using genebanks, we will be sure to always have access to our indigenous crop seeds, come what may.
Currently, we rely solely on nature and the climate to provide our most nutritious crops, such as amaranth and stinging nettle. These plants are not only a delicious part of our diets but are also used in the local skin care, cosmetic and health industries, thanks to their amazing properties. The importance of investing in establishing genebanks to conserve plants such as these, as well as staple crops, is indisputable.
Lesotho's climate and her clean, flowing waters have resulted in a range of unique, beautiful and tasty plant and animal varieties. The soil in the highlands of Lesotho—in villages such as Semonkong—has low levels of nitrogen; in this soil grow the highly delicious potatoes that most locals prefer. Our livestock graze freely on the healthy and filling seboku, which is a variety of red grass that grows wild in the grasslands, as well as a range of herbs that give the meat a fabulous flavor.
This is why I reiterate the importance of conserving and protecting precious local resources such as these, as part of our efforts to achieve food security.
The process of drafting new policies must include consultations on cultural practices and local knowledge. Such consultations will reduce disagreements and lead to the widespread welcoming of any innovations that are introduced to our food system. We can learn so much from the methods that previous generations used in farming and land management.
For example, sorghum used to be a major crop, widely grown in Lesotho. This nutritious crop is sustainable in our conditions, thanks to its demonstrated resilience in harsh weather conditions. But as other grain crops were introduced, farming of sorghum fell, even though it was not only a staple food but also an important part of our cultural celebrations. Such practices should not be left to die out.
Don't get me wrong: I have no objection to introducing new crops and varieties, but not at the expense of our traditional crops that have been grown and consumed for generations. The introduction and use of new crops should be managed better, and their value not romanticized.
The COVID-19 crisis may have delayed progress on integrating principles of food sovereignty into our national policies. It may have also caused a major setback in various sectors, resulting in business closures and loss of employment, among other things.
But this hardworking nation will come out of this pandemic victorious. We are now, I believe, more focused, more united and better aligned than ever to global goals of achieving zero hunger and ending extreme poverty.
There is a popular Sesotho saying: "Ha ho ntho e mpe e senang molemo." This means: "There are positive outcomes out of every bad situation."
Ska Mirriam Moteane is an international award-winning chef, cookbook author, activist and entrepreneur from Lesotho who came to fame after her cookbook won the 2012 award for Gourmand Best African Cookbook in the World.
She specializes in traditional local cuisine which promotes healthy eating by using local produce, and in January 2010 she established her vision to fight hunger in rural local communities by using indigenous produce that can be sustained given the current climate conditions.
Ska has practiced extensively in leadership positions with leading foundations and global humanitarian organizations, state organs and various social sector organizations to support socio-economic development in Lesotho and beyond.
The opinions expressed here are those of the author(s) and do not necessarily reflect the opinions or views of the Crop Trust. The Crop Trust is committed to publishing a diversity of opinions on crop diversity conservation and use.

We'd like to hear from you about this or any of our other articles. Reach out to us with news tips or your thoughts at editor@croptrust.org.