Adapt or Starve: COP27 Spotlights Agriculture Challenges and Solutions in the Face of Climate Change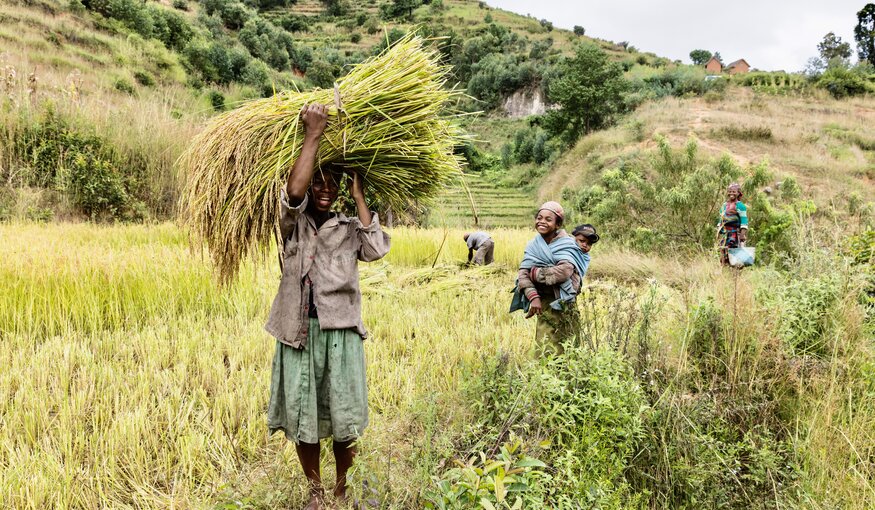 Small-scale farmers from developing countries produce one-third of the world's food, yet they only receive 1.7% of climate finance even as they are forced to cope with droughts, floods, cyclones and other disasters. (Photo: Toby Smith/Reportage by Getty Images for the Crop Trust)
12 November 2022
Small-scale farmers from developing countries produce one-third of the world's food, yet they only receive 1.7 percent of climate finance even as they are forced to cope with droughts, floods, cyclones and other disasters.
This sentiment echoed through dozens of pavilions and conference rooms in Sharm el-Sheikh on Saturday as COP27 turned its attention to the vital issues of adaptation, agriculture and food systems in the context of climate change.
"We need to help rural populations build their resilience to extreme weather events and adapt to a changing climate. If not, we only go from one crisis to the next. Small scale farmers work hard to grow food for us in tough conditions," Sabrina Dhowre Elba, Goodwill Ambassador for the UN International Fund for Agricultural Development (IFAD), said during a press conference.
As a Somali woman, Ms. Dhowre Elba said this issue was personal: as COP27 got underway her country had experienced four consecutive failed rainy seasons, a climatic event not seen in 40 years.
"I can't stand idly by while mothers, families and farmers are suffering across the Horn of Africa as it experiences its most severe drought in recent history," she explained, urging developed countries to mobilize political will and investments.
"Trillions of dollars were made available to tackle the COVID-19 pandemic and its economic consequences. The same is needed for climate change. The same is needed for sustainable agricultural support. It's crucial to the well-being and the food security of us all," she added.