Tom Yum Blondkopfchen Cherry Tomato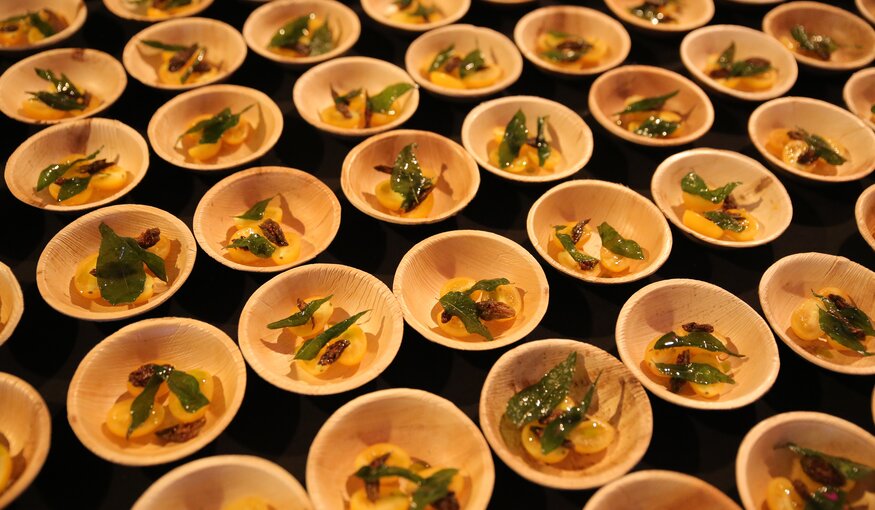 Chef Kevin Tien's Tom Yum Blondkopfchen Cherry Tomato. (Photo: Crop Trust)
30 November 2022
Kevin Thien is a Vietnamese-American chef and three-time James Beard Nominee. In 2020, he opened the restaurant Moon Rabbit in Washington, D.C., which serves contemporary Vietnamese food.
Ingredients:
2 quarts dashi, a stock used in Japanese cuisine
4 lemongrass, bruised
30 grams galangal in 2-inch slices
10 kaffir lime leaves, torn in half
35 grams Thai chili, bruised
32 grams garlic, smashed
2 Roma tomatoes, halved
100 grams dried shiitake
240 grams shallots, quartered
2 tsp sugar
200 grams fish sauce
200 grams lime juice
20 grams cilantro
Method:
Make a dashi broth then add into a pot along with lemongrass, galangal, kaffir, Thai chili and garlic.
Bring to a simmer and leave to simmer for 10 minutes.
Add halved Roma tomatoes, dried shittake, and shallot. Let simmer for an additional 10 minutes.
Add sugar, fish sauce, lime juice and cilantro.
Add salt to taste.
Strain mixture into a chinois with a cheesecloth.
Cool completely before storing.
Categories: For Educators, For Students