Seeds: 'Low-hanging Fruit' for Food Security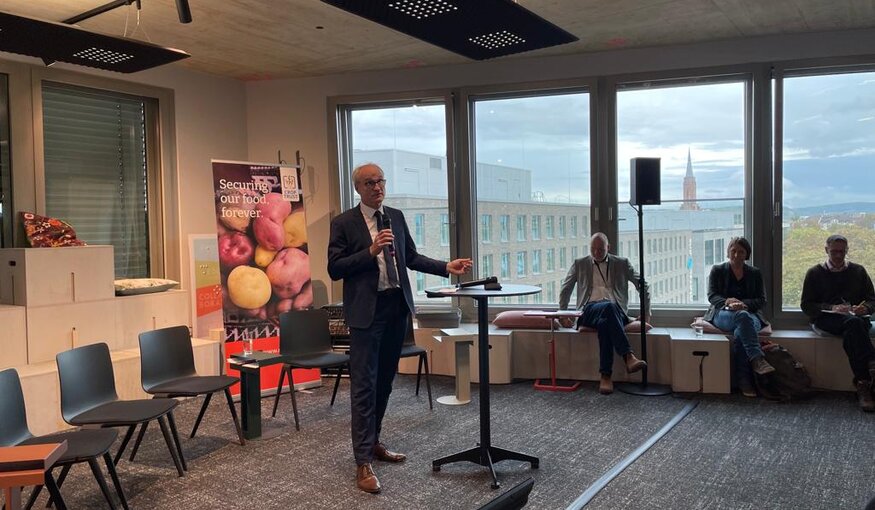 Crop Trust Executive Director Stefan Schmitz giving opening remarks at Crop Diversity Day 2022. (Photo: Azzura Lalani/Crop Trust)
7 October 2022
The Crop Trust highlighted the role of seeds in providing actionable solutions to the challenges facing the world's food systems at a curtain-raising event held in Bonn, Germany, on 27 September.
Crop Diversity Day kicked off what's planned to be a yearly event for scientists, policymakers, students and the general public to help promote food security amid the global threats of climate change and geopolitical conflict through the conservation and use of crop diversity.
"We experience every day how deeply connected climate, land, water, air and food security are. You can't differentiate between them. It's all one big thing," said Ursula Sautter, deputy mayor of the Federal City of Bonn, in her opening address.
The deputy mayor emphasized the importance of local crop diversity by sharing an anecdote about her own seedling of a vineyard peach (Weinbergspfirsich in German), a fruit that gradually adapted to the climate around the Mosel River after the Romans introduced it to the region 2,000 years ago.
Neglected Diversity
Global crop diversity is necessary for future food and nutrition security. Yet only three crops—wheat, maize and rice—account for more than 60 percent of the world's calories, while many other nutritious crops are overlooked, neglected and even threatened with disappearance. And diversity is also being eroded within individual crops, as farming modernizes and globalizes. Meanwhile, the war in Ukraine has only worsened the plight of the billions of people who can't afford a healthy diet.
Crop diversity allows researchers, plant breeders and farmers to adapt agriculture to the climate crisis, to improve livelihoods, and to feed everyone adequately. New crop varieties that are developed using seeds conserved in genebanks can be more resistant to heat and drought, as well as pests and diseases, while offering farmers more economic incentives to grow a particular crop.
In his keynote address, Joachim von Braun, president of the Pontifical Academy of Sciences of the Vatican and a member of the Executive Board of the Crop Trust, said investments in seeds are low-cost interventions that can help de-risk the food system and lift 400 million people out of hunger by 2030. A fundamental shift in worldviews is needed to address a societal imbalance that sees USD 9 trillion spent every year in markets and supermarkets, while indirect health, environmental and biodiversity costs amount to USD 28 trillion, he said.
"Unsustainable and unhealthy food is too cheap, and sustainable and healthy food is too expensive," von Braun said.
Global System
The first panel discussion focused on the policy aspects of harnessing crop diversity to improve food security in developing countries. The panelists highlighted the importance of a multilateral approach, which the Crop Trust supports through close collaboration with the International Plant Treaty.
The engagement of large agrofood companies is vital to improving affordability and nutrition as monocultures of staple crops displace diverse crops in farmers' fields. The panelists stressed the cruel irony that half of the 828 million people who go to bed hungry each night are smallholder farmers, who produce much of the world's food.
Youth and women can act as agents of change toward a more sustainable food system, while Indigenous communities should be recognized as stewards of crop diversity, the panelists said.
"We need to marry ancient traditional knowledge with scientific knowledge and provide economic incentives for Indigenous communities to engage in agriculture that gives them higher yields, more resilience, reduced input costs, and access to markets," said Professor Claudia Warning of the International Center for Sustainable Development at the Hochschule Bonn-Rhein-Sieg (University of Applied Sciences).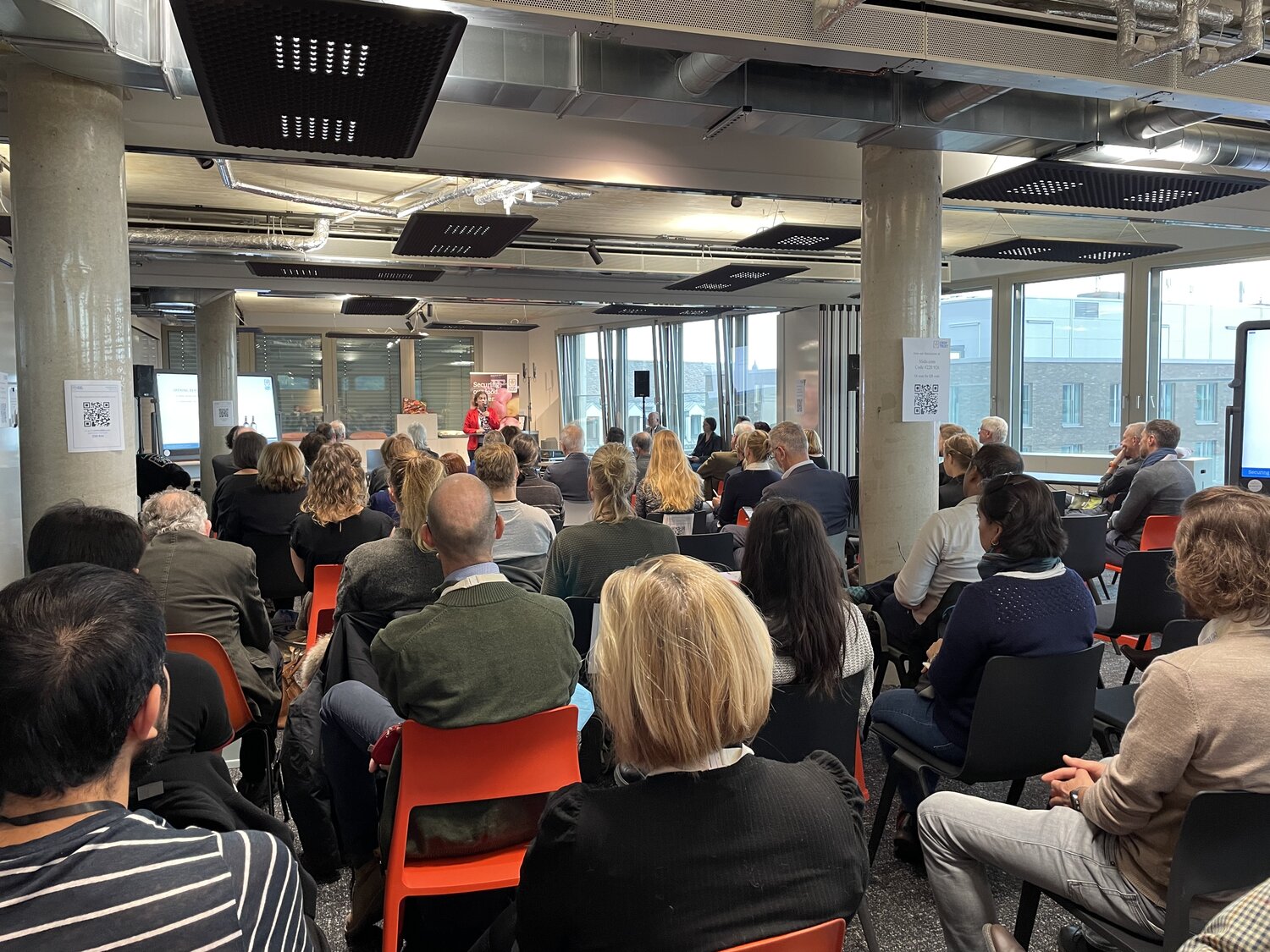 Nature-based Solutions
The second panel discussion assembled four senior academics from the University of Bonn, who explained their own research on different aspects of crop diversity and highlighted the indispensable role that nature plays in creating a resilient food system.
Technology cannot compensate for the loss of crop diversity because of the unique qualities found in nature, according to one panelist, who offered a fitting analogy. "Plant breeding works like a fax machine, while natural selection works like a quantum computer," said Professor Maximilian Weigend, director of the Botanic Gardens at the University of Bonn. "If you want to go toward sustainably feeding the world, then you need a broad genetic base, not 10 zillion genetically identical individuals."
Protein-rich legumes have a key role to play because they reduce the need for meat consumption and add nitrogen to the food system, which relies not only on crops but also the diversity of pollinators and soil microbes, said Professor Thomas Döring, who specializes in agroecology and organic farming.
The event concluded with closing remarks from Stefan Schmitz, Executive Director of the Crop Trust, who stressed the twin dangers of genetic erosion due to climate and social change.
"When you talk about strengthening resilience, everything starts with seeds: new seeds, better seeds, and a huge variety of seeds," he said. "They are the low-hanging fruit of food system transformation. With relatively little money, we can lift hundreds of millions of people out of poverty and malnutrition. Could there be a stronger argument for the conservation of crop diversity?"